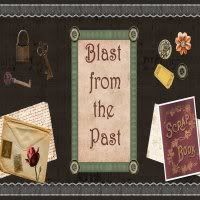 Click this link to find the rules for doing the Blast From The Past
This week for my
Blast From The Past
I have another photo of me when I was young.
I am not sure of my age, my mom did not date the photos,
but to me I look like I do in my Kindergarten class photo,
(I will post that another week)
so I guess I am about age 5.
The cat is our cat, Mittens.
This top photo is in color.
My husband says they hand painted the original, which was black and white, with oil paint.
This fascinates me. He says they had color film, not much, but some.
They choose to do it this way because black and white photos lasted
a lot longer than the color photos did.
Wow hand painted over the photos... even my hair and fingers.
They painted everything but the cat, my white blouse and the background.
You can tell this especially by looking at the photo below.
This photo came from the same negative, they left this copy black and white for a comparison and so we could have one uncolored.
Oh, by the way the color original is an 8x10.
The black and white original is a 5x7.
Well, I hope you enjoyed my Blast for this week.
I hope you will join me in sharing old photos from your past,
your kids past, your family past...
whatever.
Here is Mr. Linky. Sign in so we can all visit your post.
You can also leave comments about my post.
Debbie