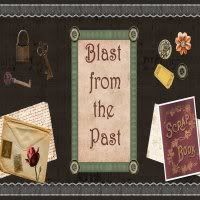 Welcome to the First
Official
Blast From The Past Carnival
One previous Blast From The Past did occur but that was before I had my carnival button and I did not put a Mr. Linky in. You can check it out here:
Blast From The Past - 1972 Fashions
Here are the Rule for participating in this carnival
The purpose of

Blast From The Past

is to link up a post about something from the past. You can reach back all the way to your childhood and bravely post pictures of you in your wild clothes and hair styles or post something from last year and tell us about it. I'm not picky. Hey, even

yesterday

was the past... LOL My posts will mostly be about events that happened prior to blogging, as a way to share those things with the world.
It can be about you, about your kids, about your parents, about whatever. For ideas check out the other posts in Mr. Linky.

Please use a permalink that sends readers directly to the correct post. If you are not sure what that is click the work permalink for an explanation.

Mention my blog and offer a link back to the main page of my blog. http://debbiesdigest.blogspot.com/ This is a requirement to take part and a kind gesture to me your hostess as well as your readers--they will know where to join in the fun, too.

You can put the Blast From The Past button on your site and in your post. Please use it to link to my site, to spread the word about my Carnival. Using the button will help others know how to find me and how to join. Tell others to click on the button in you post to find us here or put a link in your post to point the way.

Have fun and can't wait to see what is in your past!!!


P.S. if you don't have a scanner to scan those old photos you can get it done at most places that have a photo lab.

I changed the day to Tuesday. I don't know if that will be better for anyone and I will do my post the night before and have it scheduled to post at 6 am so it will be ready for everyone who wants to post.


Even though I am putting the post and Mr. Linky on here on Tuesday, you can do your post any day that you have time if you need to, at least until I get popular... LOL
Just remember to come back here and sign Mr. Linky so I can come visit your post and leave you a comment.

Ok here is today's Blast...
For today I chose a picture of me about as far back as you can go
Me at about 3 months old Summer 1961
The photo is untouched except for being cropped
I am cute!
if I don't say so myself!! LOL
I hope you enjoyed today's Blast From The Past
I don't have much else to say about this photo so I will leave it at that.
Some weeks there might be more explanations needed
and some weeks there will be more than one photo.
It is totally up to you to do this how you want each week,
within the rules above.
But, there aren't many rules.
Don't forget to get the html button for your blog and/or post
thanks,
Debbie
and now here is Mr. Linky for you to come back to leave your link for your post.