OOPS!! I forgot that I had changed my Blast From The Past to Tuesday...

I will try to remember next week but I did not want to just skip it for this week so
even though it is late here is this weeks Blast From The Past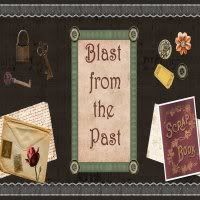 This week I am doing picture of the kids instead of me.
I do not want to do things in any order, just random photos of our family from the past
So for this week we have
Rachel and Jessica at
The Philadelphia Zoo
June 1993
The Philadelphia Zoo
is Our Nations First Zoo
Celebrating 150 years this year
it opened in March 1859
Jessica on the left Rachel on the right
The picture in the egg above and of the three of us in the tree below are from
The Treehouse
A section of the zoo for kids of members only.
It is indoors and kids can explore and learn in many cool areas.
You will see more of this some other week
when I do more zoo pictures from different years.
Jessica
Pony Rides in the Children's Zoo
We did not do pony rides each time we went to the zoo
but we usually did it once during a years membership.
Rachel
A statue in Bear Country + my girls
I hope you enjoyed our look back at the Zoo for this week.
If you want to participate the rules can be found on my first official post here:
Don't forget to grab my button
And tell folks how to find my Carnival by clicking on the button in your post, and on your sidebar if you put it there, and/or putting a link to my post into your post.
Have a wonder filled week,
and spend some time having fun with your kids not just being their teacher,
Debbie