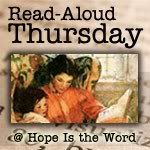 One of our History Read-Alouds this week was
Pilgrim Neighbors: More True Pilgrim Stories
by Elvajean Hall
This is a good book. I had my hubby order it from amazon because we were enjoying reading
Pilgrim Stories: From Margaret Pumphrey's Pilgrim Stories
as individual silent reading. Pilgrim Stores was edited by Elvajean Hall. I thought More True Pilgrim Stories would be just as good. I thought the stories were pretty good. There are a lot of good stories in there that I had not heard elsewhere. This is appropriate for grades 3 and up I would say, younger if you have multiple children.
Our Historical Fiction this week was
Won by the Sword: A Story of the Thirty Years' War
by G.A. Henty. We love G.A. Henty! Great history, great heroes, wonderful action, and keeps your attention. The kind of books you want your boys to read. Good moral stories with godly characters who have hard times during important events in world history (mostly British history). I would not suggest reading this book to young children, I would think it would be appropriate for children age 11 or 12 and up... especially boys!!! We have another couple weeks reading
Won by the Sword
, so far it is a great story... but we have never met a Henty we haven't liked.
all content on my blog is ©