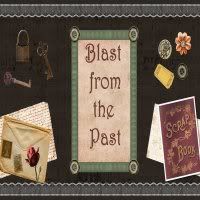 Click the
Blast From The Past Rules
tab above
to see the rules for my meme if you are a first timer or if you forget the rules.
Please join me.
This week I am posting another field trip my children went on.
The field trip as state above was to a hospital in our area... a small hospital.
They gave the children a great field trip seeing a lot of areas in the hospital.
I am sad to say I do not see my other daughter Jessica in any of the pictures.
I don't know how that happened.
My daughter Rachel is the girl below (and in subsequent pictures) in the purple turtleneck.

Looking at an x-ray

Checking out the x-ray machine
In the children's ward



In the kitchen the kids got these hats... they loved them.
I am not sure... but I think... the girl in the white shirt with her back to us... behind Rachel...
that may be Jessica... the size and hair color is correct.

Nathan loved his hat, too!!!
He is about 7 mos. old.
Adorable!
It was a great field trip!!
Grab my button, check out the tab above with the rules, post the button and your pictures, with or without commentary about them, on your blog, then....
Come back here
Link up your post...
then Leave me a Comment
especially if you don't post your link today
I want to be able to come and see your post.
all content on my blog is ©