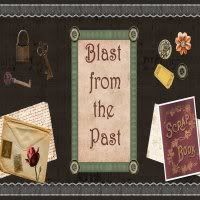 Click the
Blast From The Past Rules

Tab
above to see the rules for my meme if you are a first timer or if you forget the rules.
Last week
Jennifer Unsell
joined me in the Blast From The Past and her post reminded me of some photos I have of field trips when my kids were younger so...
this week I am sharing a field trip to Pizza Hut from 1995
Before the kids made their own pizzas they were given a tour of the Pizza Hut, the kids especially liked the big mixer which I thought I had a picture of... but couldn't find it... maybe that was a different trip to Pizza Hut... I will keep looking for it.
Here is Rachel making her pizza
You don't usually sit on the counter to make a pizza but that is what Jessica did.
More cheese!! More cheese!
I hope they washed the counters off before they started serving customers later in the day!!! LOL
I am sure they did...
the kids made a mess.
Into the oven
Then they got to help cut their pizza....
and then the best part of the field trip...
eating the pizza.
I hope you will join me today or later this week.
Please leave a comment when you post because if it is later in the week I may miss it, but I have my comments moderated so that will notify me of your linking up.
Do you have any cute photos of your kids, on field trips, when they were little, that you want to share?
Or share any photo from your/your kids past, just...
Grab my button from the sidebar ...
post it and your pictures to your blog then com back here and ...
all content on my blog is ©