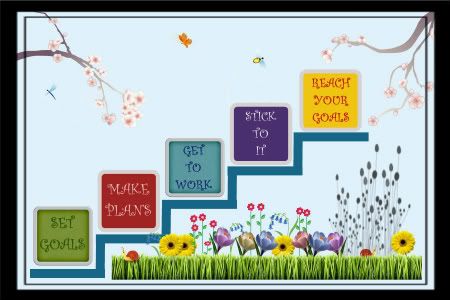 October was terrible. So terrible I never did do an update. November has had it's moments as well... but even with the ups and downs, especially emotionally, I have gotten some things accomplished. I did not accomplish as much as I wanted but some times you have to give yourself and break and know that you did what you could under stressful circumstances.
Now on with the update...
The main goal is in bold and under that are the smaller steps to reaching those goals.
The positive steps I have made with my goals this month have a smiling smiley face
in front, the goals that I still have to work on have a sad face
in front. Some are not really sad but that is the best contrast I could make between completed and not completed. The color thing was getting to complicated and I love smileys so I am sticking with them.
Spiritual
Have personal devotions daily. First thing in the morning. I will read a book of the Bible (more in depth), read a Godly Christian book, take notes in a journal, listen to Christian music daily, and pray.
Read Godly books. Some will be for my devotions, some for Ladies Bible Study and some for Sunday School.

I finished reading The Resolution for Women

on November 20th.

Read Promises Promises.

I started reading this for devotions I finished ch. 5 and the questions for each of the chapters.

I started reading Honestly

by Sheila Walsh. An interesting book about a woman from tv who went from hopelessness, to honesty and freedom, to real faith and joy. A book handed down to me by a cousin that I thought might do me good in this stage of my life and because of the circumstances of 31 months of unemployment for my husband.
Health and Fitness
Exercise more, more often and consistently. I would like to be much more fit by the end of 2012

Start by using the Wii at least 3 days a week for 15 minutes and increase from there.
Educational
Read some books/magazines to expand my own education.

Some will be about homeschooling. Not recently but I did read a homeschool book this year already so it counts as completed. I do have a couple books and some Schoolhouse Magazines I want to read but I have not made the time to do it

I also have a health and fitness book or 2 that I want to read. I finished reading Reshaping It All by Candace Cameron Bure in March. I don't have another fitness book I want to read right now, but that is ok since the goal was only to read 1 or 2 health and fitness books this year.
Personal/Leisure
Spend one afternoon at least every other week doing scrapbooking.
Read some books for pleasure.
Continue blogging and remember it is supposed to be for fun and for the records for my family.

Write more consistently on my blog at least 3 posts a week.
Continue being consistent on recording daily in our school log. I have been very consistent with this lately.
Be consistent with reviewing Christophers daily assigned work and making sure they complete everything assigned to them and then put the stuff away in the folders/notebooks where it belongs. Done.
Check periodically on the boys hours for school. Done. I checked how many hours credit Christopher has for Computer class and he needs more so he is working to finish that. I need to do a count of his hours soon so I know how the year is going. I want to do a check on his hours at least once every 9 weeks and need to get that done this coming week.
Complete Nathan's Sr. Year. Complete his transcript. Have his graduation ceremony. Next school year, which starts in July 2012 I will only have one student! That will be weird and I am sure we will have to make adjustments. Done! Nathan graduated in June.
Family/Relationship Goals:
Spend more time with my dear husband
Spend time once a week with one of my kids, just mom and one of the kids doing whatever the child wants to do. Usually a combo of eating, talking and playing board games, computer games, or on the Wii.

Start with my youngest and schedule it on the calendar so I can keep track of who is next for their turn. Goal is one child a week and then a week off. Sometimes the kids don't have time or won't make time to spend with me. Sometimes I will skip that child and go on to the others. Sometimes I will just wait until the next week. Perfection in scheduling is not the goal. The goal is to spend time having fun with my kids. The time we have spent together lately has been mostly together or in small groups: Thanksgiving day, putting up the Christmas decorations, and watching movies. We also started a tradition of reading by candlelight on Sunday nights. We all read what we want and sit together at the dining room table. Everyone is not required to participate... but encouraged to. I have not been making time for each child like I should... though the kids don't seem to care much these days.
18 Done
1 Not Done
If you made/make/want to set goals and link up, just choose the size you want and copy the code from the little box beneath it. Past the code in your blog post at the top then write your goals. Tell you friends to click the button at the top of your post so others know how to join us if they want to.
At the bottom of the post I will provide a linky so you can join up and I can see your goals and how you are doing. If no one joins me that is fine too. I am doing this mostly for myself.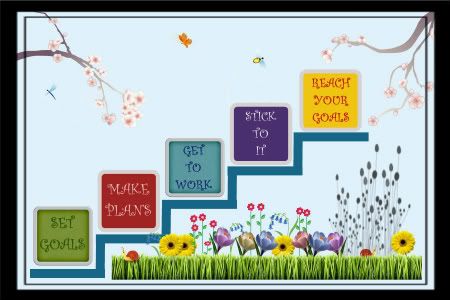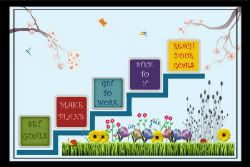 Monthly Update List
Yearly Goals ~ October Oops (no update)
all content on my blog is ©