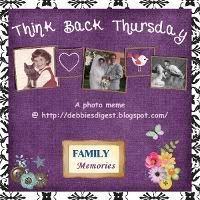 The purpose of

Think Back Thursday

is to link up a photo post about something from the past. You can reach back all the way to your childhood and bravely post pictures of you in your wild clothes and hair styles or post something from last year and tell us about it. I'm not picky. Hey, even

yesterday

was the past... LOL
I hope you will join us.
I was sick last week. Really sick. Bronchitis. The only things I did were go to the Dr., sleep, rest, cough and watch movies. It started on Monday. I started feeling better by Friday, but had little energy. One little project was all I could accomplish each day over the weekend. I am doing much better now and even slept through the night last night without a coughing fit or 2 in the middle. I feel like a new woman today! Sleep is so important and when it is interrupted by frequent coughing, even when taking cough medicines, and when you are sick and weak as well, it just makes you more tired.
So I am making up last week's missed topic and the linky will be here too. If you did last week's topic and want to link up here it is. If you missed last week and still want to do it, that would be fine too.
Last week
Dec. 13
Holiday Decorations
One of the things I love most about our family decorations are the homemade ornaments on our tree. Every year for a while now I have been making each family member a new ornament for the tree each year. We want the kids to have ornaments to take with them to their new homes when they marry, so they will have childhood memories to take with them and won't have to go buy lots of impersonal ornaments for their tree. A few new ornaments is fine... but you can't buy memories. It is special to all of us. I make my hubby and I a new ornament also so when they leave us our tree won't be bare. Consequently we now can't fit all our ornaments on the tree... we just put a few of the homemade ones on and not all of each set. The only exception to that is the little stocking ones... we fill them each year and the kids look forward to seeing what little gift is in them on Christmas morning.
Christmas 2003
These were cross stitched and then I used double sided iron on facing to stick material to the back to make them look neater. Then I used pinking shears on the edges.
I only made one of the snowman below, I did not make him for the whole family. He was really hard to do, and took a lot of time, but he is soooo cute. He is made with felt and hand stitched. My sister-in-law made one too, then she made one using puff paint, it was much easier. I am not sure what year I made him. It was a while back.
Christmas 2005. Done on Plastic Canvas
These were in little kits from ACMoore. Each was a complete kit with hanger, material and the floss for stitching. I added our names myself, I forgot to put Rachel's name on hers. I am not sure which year these were from.
Christmas 2008
These are plastic canvas. I used variegated floss.
After the stitching is done you use seed beads in the center or around the edges.
They turned out beautiful. We each have a different color.
These are from 2009. The stockings open up and you can put little treats in them. The pattern is from a book and copyrighted. The book is called "
Christmas all through the house
".
You can find it at this link from Amazon.com
. It has a lot of great projects I hope to do in the coming years. These stockings turned out better than I thought they would and look even better in person than they do in the picture. Mom is my mom not me, mine is the one that says Debbie.
In 2010 I made carolers for each of us. I don't have pictures of all the carolers, each is in different colors.This one is mine. I will have to take a picture of all of them before we put them away this year.
In 2011 I made this glass balls with strips of paper from each person's favorite Christmas carol. You can see the notes and some of the lyrics from the song. Each family member choose their favorite carol and I made one for my sister and my friend Michele as well, as gifts. They turned out really well. Oh, I also made a special one for my hubby with a copy of our wedding ceremony bulletin in it. It is so special, he loved it.
For 2012
This year I did cross stitch again.
They are not finished yet. I plan to put iron on interfacing on the back of the cross stitch and then sew material on. I don't think I am stuffing them, though I may change my mind on that. If I do stuff them it will be very little.
I just noticed that I forgot to stitch 2012 on three of them. Gotta get that done before I put the iron on interfacing on them. Each of these are about 2 1/2 inches in height and width.
We have lots of other Christmas decorations but this post is already long enough.... so they will have to wait for next year.
Dec. 27 Christmas Long Ago
(how long ago is up to you :-)
Here are the Rules for participating:
It can be about you, about your kids, about your parents, whomever. You can include video, I will not exclude video alone posts, but I prefer them along with photos, as this is a photo meme. I am doing a weekly theme now. That should help narrow it down from the myriad of photos we all have. For ideas check out the other posts in my label Think Back Thursday.

Link up below.

Please use a permalink that sends readers directly to the correct post. If you are not sure what that is click the word permalink for an explanation.
Mention my blog and offer a link back. This is a requirement to take part and a kind gesture to me your hostess as well as your readers--they will know where to join in the fun, too.

You can put the Think Back Thursday button on your site and in your post. You will find it on my right sidebar. Please use it to link to my site, to spread the word about my meme. Using the button will help others know how to find me and how to join. Tell others to click on the button in your post to find us here.

Leave me a comment. First so that you can let me know what you think of my pictures and secondly so that I will know a new post has been linked up and I can come visit your blog and comment on your photos.
Join me!
all content on my blog is ©