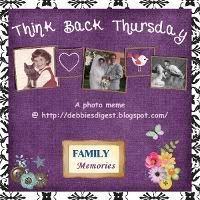 Today's theme is...
Earth/Dirt
I am very interested in seeing how the participants of my meme interpret this theme and I hope you enjoy me photos. It was fun looking back.
Rachel and my hubby
on the dirt driveway of the property we used to own in lower Delaware in 1988.
We had a trailer on this property.
My sister Chris and my daughter Rachel at the Philadelphia Zoo in 1988.
Lots of dirt in the elephant habitat.
Elephants are Rachel's favorite animal.
The Philadelphia Zoo sold their elephants last year, that made us sad. Hopefully the elephants are happy in their new zoo home, wherever that is.
Nathan Summer 1995
Dirt galore!
They were playing in the summer rain.
Nathan Summer 1995
Sitting with his Nan (what our kids call their grandmother).
Not only playing in the dirt at his Nan's house...
but eating it apparently!!
Adorable
cutie
Nathan and his Nan
Groundbreaking for our current home
A Habitat for Humanity home
June 1997
A wonderful day. A GREAT reason to dig in the dirt.
Rachel and Jessica on the dirt under the old St. Georges bridge, 2005.
Don't ask me why they are wearing winter boots. I have no idea.
???????
It was August.
Well those are my dirt photos!
What did you find???
I have done some planning ahead for August. So while you are looking for this week's pictures you can be on the lookout for photos for the themes for the weeks ahead.
Next week - Aug. 9 -
Fire
Aug. 16 - Wind/Air
Aug. 23 - Rock
Aug. 30 - Night
The first 4 August posts are part of a series... we already did Water and Clouds and now Earth/Dirt. I decided to do some other basic "elements" of life on earth.
Aug. 30 can by any night shot, should be outside, inside at night is just an inside shot, not a night shot.
I have been collecting some pictures for these posts. I put them in a special file called Future Think Back Thursday Themes. Inside that folder are separate folders for each theme.
Here are the Rules for participating
:
The purpose of

Think Back Thursday

is to link up a photo post about something from the past. You can reach back all the way to your childhood and bravely post pictures of you in your wild clothes and hair styles or post something from last year and tell us about it. I'm not picky. Hey, even

yesterday

was the past... LOL My posts will mostly be about events that happened prior to blogging, as a way to share those things with the world.
It can be about you, about your kids, about your parents, whomever. You can include video, I will not exclude video alone posts, but I prefer them along with photos, as this is a photo meme. I am doing a weekly theme now. That should help narrow it down from the myriad of photos we all have. For ideas check out the other posts in my label Think Back Thursday.

Link up below.

Please use a permalink that sends readers directly to the correct post. If you are not sure what that is click the word permalink for an explanation.
Mention my blog and offer a link back. This is a requirement to take part and a kind gesture to me your hostess as well as your readers--they will know where to join in the fun, too.

You can put the Think Back Thursday button on your site and in your post. You will find it on my right sidebar. Please use it to link to my site, to spread the word about my meme. Using the button will help others know how to find me and how to join. Tell others to click on the button in your post to find us here.

Leave me a comment. First so that you can let me know what you think of my pictures and secondly so that I will know a new post has been linked up and I can come visit your blog and comment on your photos.
Join me!
all content on my blog is ©