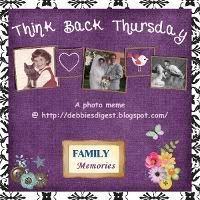 Tomorrow Aug. 16
I am thankful to have found a number of different things for this theme. A few photos of Anyone have any ideas of things to look for when searching my photos. I used the sport setting on my camera to take some still photos of trees blowing and I took a short video as well. I will be using a few photos of my kids blowing out candles... that takes air... and I found something else to go with them. I hope you are having success with your Wind/Air photos. I hope someone joins me tomorrow.
Future themes:
Aug. 23 - Rock
Aug. 30 - Night
The first 4 August posts are part of a series... we did Water and Clouds a while back. Then we did Earth/Dirt and last week Fire. Tomorrow with Wind/Air and next week's Rock finishes the series.
Aug. 30 can by any night shot, should be outside, inside at night is just an inside shot, not a night shot.I have a few good ones for this.
I have all of September's themes picked out already. I will share them next week so you can get ahead if you want.
all content on my blog is ©