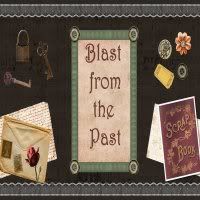 Flashback Friday is usually hosted by Linda @
Mocha With Linda
This week Linda is on Spring Break and Bethany @
Raindrops and Rainbows
is taking over. So if you are interested in participating this week come by
Raindrops and Rainbows
and link up you post.
Besides counting this for Flashback Friday I found a picture of my kitty and I. So this will be the Blast From The Past for this week also. I am not sure of the date, maybe 1969 or 70. I look about 8 or 9 years old.
Tuffy and I on the back steps at the house where I grew up
The Questions from Flashback Friday about Family Pets
Did you have any pets when you were a child? What were they?
Yes, we had cats. One cat at a time. One when I was really little and another cat later. My hubby and I also had a cat when we were first married. Maybe I will do a Blast From The Past on him some day soon.
Did you have a favorite pet? What was the pet's name?
Yes, his name was Tuffy. He was a Tabby Cat.
Where did you get it?
From my aunt. He had been locked in a boxcar that came all the way from California and was found at her work when the boxcar was opened. He had lost his voice from meowing for so long, had been declawed (so was probably a loved family cat) and we malnourished from the long trip. We soon fattened him up.
Did it live inside or outside?
Inside. At first because of being declawed my mother only put him out on a leash attached with a rope to one of the poles for our clothesline. Then we figured if he could at least get away from trouble he would be better off than trapped by the leash and rope. So we let him out and he came back and forth. He never ran away though, I remember being afraid of that happening.
Whose responsibility was it to care for the pet?
Mine? I think.
What special things did you do with your pet?
Not much. Except hold him and pet him... He was very, very loving and would sit in my lap or next to me for hours.
Did the pet go on trips with you?
No, we left him home and had someone come and take care of him. Or, if it was a short trip, we would leave him food and water in these cool dispensers we had. Similar to these:
http://www.amazon.com/Bergan-Petite-Gourmet-Gallon-Waterer/dp/B0009YS90K/ref=pd_sim_k_4
http://www.amazon.com/Bergan-Petite-Gourmet-Feeder-Pounds/dp/B0009YUDI6/ref=pd_bxgy_k_img_b
How long did you have the pet?
I don't really know. I guess I was around 8 or so when we got him and he died... (see below) We probably had him 12 or 13 years. He was a couple years old or so when we got him.
Did you ever have a pet that died?
I don't know what happened to the cat we had when I was really little. He was gray with white feet and we called him Mittens. I assume he died. I will have to ask my mom. Tuffy, my favorite and the one that I remember the most, died while I was away at college.
What was your reaction to losing the pet?
I don't remember being really sad. Maybe because he died while I was away. Maybe because his dying, in comparison to my father dying when I was 14, was not nearly as traumatic. I know I was sad, but not distraught. I would miss him but he had lived a long life.
Did your family ever have any unusual pets?
Nope... just cats.
Did you ever have class pets at school?
I don't remember. I know we took our pets to school once or twice but I don't remember if we had class pets. If we did they were probably gerbils or hamsters.
For my Blast From The Past participants:
Grab the BFTP button from the sidebar
Read the Rules HERE if you need to.
Post your photos on your blog
Come back here and Link Up
Leave me a comment when you link up, I'd love to know what you think of my kitty. You especially need to leave a comment if you don't post your link today!!!
all content on my blog is ©