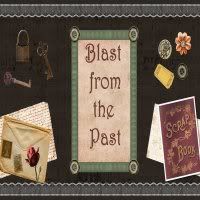 Click the
Blast From The Past Rules
tab above to see the rules for my meme if you are a first timer or if you forget the rules. Please join me.
On Wednesday I posted my answers to the
Wednesday Hodgepodge.
One of the questions asked it I had ever been in a parade. I said I would post the parade pictures for my Blast From The Past this week.
Rachel, Jessica, Nathan and I were in this parade. Dressed in our Civil War outfits we walked in the Memorial Day Parade in the nearby city of Wilmington with the Bonnets and Bayonets group that Rachel belonged to at the time. Bonnets and Bayonets put on a play and other civil war activities for local public and private schools as well as holding a Civil War Ball each year. It was loads of fun.
My son Nathan is the little boy in the light blue shirt in the row with the American Flag.
Soooo Adorable.
Here is the picture proving I walked in a parade.
I am in the back row in the white and green dress with the white shawl.
Hi! I'm waving to you all.
Rachel is in the middle row closest to us in the purple dress and white shawl looking at the camera.
Jessica is in the middle row also, furthest from us, you can not see her as well.

This is hysterical. If you look at the group pictures below that we tried to take
there is not one where everyone is looking at the camera.
LOL
Ummm... we are not even all here yet. Nobody is ready.
My son Nathan in the middle of the middle row is not looking and
the boy in front of the confederate flag is not looking.


One of the Bradford boys in the front is not looking
and the picture is a little blurry, too.
We did not get a "perfect" picture but that makes it all the more memorable.
Join me by posting some pictures from your past as far back as you want to go... yesterday, your children's growing up years, your childhood... or even further back.
Then make sure you come back here and post your direct link!
If you don't sign the linky my readers and I won't know you participated.
I have an e-mail sent to me whenever someone posts a link below.
So get to it.
Let's see your photos.
all content on my blog is ©