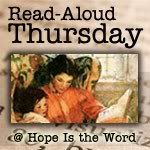 I am submitting this book to the meme on the right and left. Originally published in 1889. It is a long book, 373 pages. So it definitely counts for the 52 Books challenge this is book 5/52. Also I read it aloud to my boys as part of our History. We read Historical Fiction and History every day. The boys especially like the Historical Fiction and especially Henty. Since it is a read-aloud it counts for the Thursday meme, too.
Won By the Sword : a tale of the Thirty Years' War
(free kindle e-book) by G.A. Henty
Won by the Sword: A Story of the Thirty Years' War
(paperback)
This book is a sequel. We read the first book, Lion of the North, and you can find my review of that
Here
. This book continues the Thirty Years War, and is centered in France. The hero is a Scotsman, Hector Campbell, orphaned son of a Scotch officer in the French army. After his father dies he is raised by the company his father was a part of. The men train him and he is educated in the "art" of war. As Hector Campbell answers an officer's questions about the make-believe war that he and his fellow-comrades are playing at, Hector never imagines it could be a famous general, Viscount Tureene. But before long Hector becomes a part of Turenne's household where he, along with his "sidekick" Paolo, is involved in several dangerous, adventurous missions for the general. Other main characters are Cardinal Richelieu, chief minister of Louis XIII; Cardinal Mazarin, assistant to Richelieu who with cunning and a recommendation from Richelieu, succeeds his master.
I don't want to ruin the story for you by telling you all the good parts. Suffice it to say, this books is as good, or better, than Lion of the North. There is/are danger, sieges, battles, plots, rescues (one rescue of a young lady of course), bravery, and much more. This book is full of courage, a book that you will benefit greatly from. And for anyone who likes history, this book is a must!
The best recommendation I can give you is that each day when I stop reading the chapter of Henty for the day the boys beg for another! Do I read another??? Nope! I am a meanie!!
LOL They have other work to do and the story will have to wait for tomorrow.
I added books to my Reading Pages... see the tabs at the top of the page or click these links:
Reading 2010 - 100+ Books Challenge page. Some other books have been added to this list that don't count for 52 Books in 52 Weeks because they are juvenile. For the 100+ book challenge I am up to 10/100.
I have some more books to do reviews of... I am working my way through them.
all content on my blog is ©
Note:
book links are affiliate links... if you click on the link and make a purchase I get a small portion of the sale. I use this credit to buy homeschool books for us.