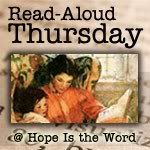 I am late getting this posted. But, better late than never.
I am including this post in a number of reading challenges. First is Read-Aloud Thursday... click the button on the left. Second is the challenge at Footprints in the Butter -
Reading Aloud Challenge
Monday we finished reading
Life in Colonial America - Landmark Giants Series
by Elizabeth George Speare. We love Landmark books so I was sure I would also love a Landmark Giant!!! and we did. The 2 color illustrations and copies of old photos are not stupendous but they do give you the idea and enhance the story in many cases. The wonderfully words, written in 1963, make all the difference.The book covers plantation life in Jamestown 1607 through 1700. I like this book because it covers the everyday life of different kinds of people. I love the dutch settlers sleeping in a cupboard (with picture), the chapter on "The Goodwife at Home" with her wooden egg-beater, quilting, and "toaster" - like this one
http://www.mtforge.com/Catalog/page1/pages/toaster.htm
, and a chapter on schooling, playing, pets, what children wore, and the first college in America..Boy college at Yale and Harvard in the "olden days" was nothing like it is now... there were strict rules about studying and only one hour a day, in the evening, for relaxation. I also enjoyed the chapter called "By Sea and by Land" showing how people got around in the America's in the 18th century: ferrymen, sedan chairs, Conestoga wagons, sleighs, the Long Island Ferry (yeah, way back in mid 1600's), and early stagecoaches. I love studying the everyday lives of the colonial people.
This is the only reading we got done this week. Tuesday my son Christopher got a sore throat and that was it... we didn't get any more school done. He is well on the mend now and hopefully, prayerfully we will be back to school on Monday. I hope no one else gets this, it was only a sore throat but it was a bad sore throat.
I will also be adding it to my year long reading challenge:
Reading 2011 - 100+ Books Challenge. For the 100+ book challenge I am up to 29/100. I have to "book it" (lol) if I want to still read 100 books in 2011. I need to read 3 1/2 books a week. I am trying to read more and I will just see how I do. Luckily I get to count personal reading as well as read aloud to the boys for school... that helps.
I also have the following extra challenges... this particular book did not count for either of these challenges since we own it and it was not an award winner. I have read a bunch of library books, however, and added them to that list.
all content on my blog is ©