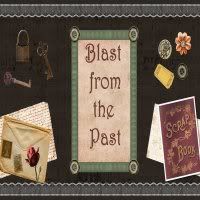 This week I am featuring photos from Longwood Gardens from June as you saw in my title. I usually do much older photos but I have been wanting to get these posted and keep forgetting. They are a month old now so I decided to post them for this week's BFTP. I have more photos than the ones I am posting today so I am going to break them up and do more next week for BFTP and probably the week after that also, or I may post them in between the BFTP's as just regular posts. I have not decided yet. These are from the trip we took to Longwood while Rachel and Jessica's friends, Rose and Sarah, were visiting from Texas. I hope you enjoy the lovely flowers and the lovely people.
love the shadows on the wall
ahhh... trellises of roses
Sarah, Rachel, Jessica, Rose, Court (hubby)
dd Jessica
love the combos of colors on these flowers
again
fixed and framed with Picnic
love these!
Here are the Rules for participating
:
The purpose of

Blast From The Past

is to link up a post about something from the past. You can reach back all the way to your childhood and bravely post pictures of you in your wild clothes and hair styles or post something from last year and tell us about it. I'm not picky. Hey, even

yesterday

was the past... LOL My posts will mostly be about events that happened prior to blogging, as a way to share those things with the world.
It can be about you, about your kids, about your parents, about whatever. For ideas check out the other posts in my label Blast From the Past.

Please use a permalink that sends readers directly to the correct post. If you are not sure what that is click the work permalink for an explanation.
Mention my blog and offer a link back to the main page of my blog. http://debbiesdigest.blogspot.com/ This is a requirement to take part and a kind gesture to me your hostess as well as your readers--they will know where to join in the fun, too.

You can put the Blast From The Past button on your site and in your post. Please use it to link to my site, to spread the word about my meme. Using the button will help others know how to find me and how to join. Tell others to click on the button in your post to find us here.

Leave me a comment. First so that you can let me know what you think of my pictures and secondly so that I will know a new post has been linked up and I can come visit your blog and comment on your photos.
all content on my blog is ©