According to Dictionary.com virtual means, "
temporarily simulated or extended by computer software
"... perfect!!
Virtual Nerd
is on the net... accessible by computer/internet. Are you a nerd??? Do you want to be one??? A nerd is defined as, "
an intelligent but single-minded person obsessed with a nonsocial hobby or pursuit: a computer nerd
." Well Virtual Nerd is run by nerds who just love math and they want to share their love with you!
!
Smiley Face
Virtual Nerd has lots of sample videos on their site, since the program is all video that makes sense, so
PLEASE
check out the links in my review to see more about
Virtual Nerd
. I have each link set so it will open in a new window... that way you don't loose your place on my blog!
If your child loves math or physics they may love Virtual Nerd. If they are struggling with upper level math or physics maybe Virtual Nerd can help. Their online nerds (tutors) will guide students into new understanding of difficult topics in
Pre-Algebra
,
Algebra 1
,
Algebra 2
, and
Intro Physics
. They expect to launch expanded coverage of Physics, as well as Chemistry, Pre-Calculus and Calculus in time for the 2011-2012 school year. They use a whiteboard and a teacher to explain topics that otherwise may stump your student.
A good first video to watch is the
Intro Video
on their main page.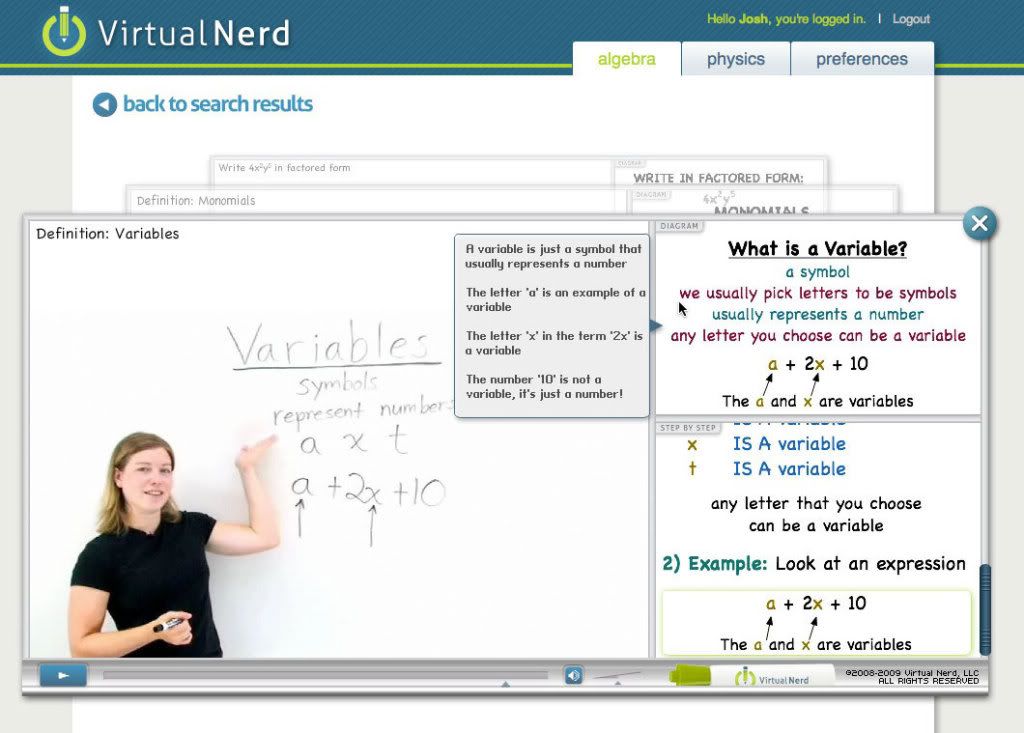 Their
Dynamic Whiteboard
is unique... check out the link to see a demonstration. There is a section of the whiteboard that has the tutor and the whiteboard, this area is called the Video Window. The nerd writes on the board and you watch. It is just like watching a video on YouTube. But the Dynamic Whiteboard has more.
There is a Diagram Window, next to the video window, in the upper right. It gives you a visual summery of the key points. If your student is unsure of what a term means during the demonstration on the white board, they can hover their mouse over the Diagram Window and a new window will pop up with definitions and links to other topics, to further explain things. Any link you open during the presentation will open in a new whiteboard on top of the one you are currently doing. That way when you are done exploring that new topic you can go back and continue with the original topic by just clicking the x to close the top window.
Then there is the Feedback button... if you have further questions or still don't understand something there is a feedback button on the bottom of that pop up window. The feedback button also shows up at the end of the tutorial.
There is one more section to the
Dynamic Whiteboard.
The Step-by-Step window. This window takes notes for you during the video... if you click on one of the steps it will jump forward or backward in the video. Great for rewinding if you need to hear something over again or you can use the slide bar at the bottom of the window. There are also links to click in the Step-by-Step window that will take you to other topics.
At the end of the video they suggest other topics you may want or need to watch next.
The minimum requirements, for your computer, to use Virtual Nerd are:
High speed Internet access and the ability to access the virtualnerd.com website
Microsoft Internet Explorer 7 (IE7) or above OR Mozilla Firefox 2 or above OR Apple Safari 2 or above OR Google Chrome 2 or above
Flash Player 9 or above
A computer capable of playing streaming video from the Internet (e.g., YouTube)
Screen/display resolution of 1024x768 pixels
If you need access to any of these components Virtual Nerd has links on their
Technical Requirements
page.
So... how did I use
Virtual Nerd
in our homeschooling. First I looked at the topic my son was currently covering in his math program. Then I went onto the Virtual Nerd site and tried to find videos that covered the same topic. I found this extremely difficult. The curriculum we use and the Virtual Nerd site do not call things by the same name. There is a search box but that did not help much. I ended up just guessing about where he was and having him watch a couple of the videos. Then I did the same with my other son.
One of the problems I have with
Virtual Nerd
is that there is no way to track which videos you have watched unless you write them down yourself. The next day when we came into the site we had no idea what the boys had watched and where they should start now. It would be nice if under the main subscription name you could add the names of your students and track their viewing of the videos.
Another problem we had was that the videos were organized in such a way that topics lower down on the list were sometimes easier and already covered by my sons and so you could not even go down the topics in order... you had to skip around.
The actual videos were well done. The topics were well covered and explained and so the website is helpful if you could work out the other problems.
My boys did not really like Virtual Nerd and so we did not really use it much. But, my boys don't really have many problems with math and I am good in math. So, using the program we already have, we do really well. But maybe
Virtual Nerd
is just what you are looking for.
If you have more questions there is an
FAQ page here
... or you can check out the other reviews by my TOS crewmates... the link is further down.
So... how much does
Virtual Nerd
cost???
1 Day $5
1 Week $19
Monthly $49
3 Months $129
If you'd like to try them they offer a 2-hour free trial.
All subscriptions and the free trial can be found
Here
. One subscription does give you access to all the levels so if you have more than one student in the upper levels of math they can all use it.
Because of the price of
Virtual Nerd
I have to give it my Break the Bank button. I know that the price compared to private tutoring is probably great... it is just something we could never afford. One of the other problems I have with the service is that after your subscription ends you have nothing to hand down to younger children. You cannot save any of the tutorials and you have nothing tangible in your hands to keep.
TOS Homeschool Crew Blog
.
***
Virtual Nerd
provided me with a subscriptions to their site so that I could do my review. Though I received this product for free I have given an honest review of it here in this post.
all content on my blog is ©
UPDATE 02/10/11:
I meant to post this last week. I was going through my Google Reader clearing things out and looking at my friend's blogs and I saw someone's posting of this.
Virtual Nerd has announced a special offer to home educators on their 1 month and 3 month subscription service . Here is the offer they left me, you can see the original offer in the comments below also:
"We are pleased to inform you that because Virtual Nerd (www.VirtualNerd.com) has received such significant interest following your review of our online tutoring service, we are offering a special discount to homeschool parents. Homeschool parents can receive

50%

off the 1 and 3 month subscription plans. Just enter the discount code: homeschooldeal when you sign up for service. That is a huge discount, and hurry - the offer is valid until March 31, 2011!"
The regular price for the 1 month subscription is $49.
The regular price for the 3 month subscription is $129.
Click
HERE
to get to Virtual Nerd's sign up page and don't forget to enter the discount code so you can
save 50%
when you check out. Here is the code again in case you missed it:
homeschooldeal
Leave me a comment and let me know if you decide to sign up, I'd be interested to know that.