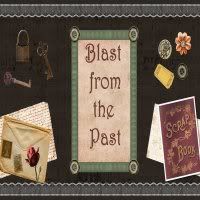 I decided to bump this up and make it my Blast From The Past, in honor of Patriot Day. My husband wrote this on Sat.and we posted it on my blog. Because of the topic, the post is longer than usual, word wise. All the photos on this page were taken by my wonderfully talented hubby! He left each picture at a high resolution so you could see details. If you just click on the photos then click the back button to come back
here; or right click and choose, open in a new tab, then you won't loose this page. So, here is my hubby...

*****************************************
I was working for Sears at the time. I had just arrived at a customer's home and the customer came running out of her house shouting, "have you heard what just happened?" Well, I hadn't, so she let me inside to see and there on her large 50" TV screen the news was that a plane had just "rammed" the side of the North tower of the World trade center... and it didn't look good.
She let me use her phone to call my wife to let her know what happened. While I was talking to my wife I heard the customer scream," Oh no!!!" "Another one just flew into the other building!" I came out of the kitchen with the phone still in my hand and arrived just in time to see the explosion coming out the side of the other tower. I realized it wasn't just a mistake... it was a purposeful attack! I told my wife about it and hurried out to fix the tractor I had been there to fix. Now all I wanted was to get home safely to my family. Just before I left I stopped back in to see what else had occurred. Just as I entered the door the first building began to crumble and fall. Now I was really scared and tried to call my wife again but could not get through.
By the time I arrived at my third customer's home I realized I wasn't going to find out much more. Telephone lines and the internet were too tied up. I had been trying to reach the home office by satellite connection to find out what we were supposed to do but couldn't get through. I had already made up my mind I was going home after finishing up there even if I didn't reach the home office for permission. That was around one 1 pm. Just as I was finishing, the customer came out and told me Delaware had declared a state of emergency. That was all I needed! I was on my way home! Finally, several hours after arriving home, my work computer received a message sent around 1:15 pm. It said, "we are in a state of emergency....go home."
Back in 1987, when our oldest daughter was around 2 years old, we visited New York City. A college friend of my wife's had taken us on a local tour. We visited the Empire State Building, The World Trade Center, and a few other sites. While in the WTC she told us they had several bomb threats each day, (this was before the first bombing in 1993).
View From Empire State Building
When we arrived at the WTC, I was impressed with how narrow it looked, (to me), from across the street. It was tall enough though that one had to really bend backwards to see the top from below. As we entered the foyer I was amazed how open it was, how far the ceiling was above, and how little structural support it seemed to have.
"Was it really those narrow outside beams along the windows and the square elevator shafts that really held all of this up,"
I thought.
View from across the street looking up
View from foyer with my wife, Debbie,and my daughter Rachel. There was a photo show of outer space pictures going on around the outside of the foyer. Hence, the space photo in the background..
We took the elevators to the top but they weren't letting people go up to the roof because it was too windy so we stayed on the observation deck for about 45 minutes just looking out the window. The windows looked to be 10 or more feet tall and were encased from the floor to the ceiling with glass. There were rooms you entered from a door, I believe, on each side and you stepped down into the room by a couple of steps. In the room was a metal grated type bench where you could sit.
My wife and daughter in one of the observation deck rooms-
taken through the divider glass wall.
Behind the seat between the room and the restaurant was a walled glass divider. I was able to stand all the way up against the window to look down and over at the North tower. At the top, a man hung over on what looked like an extended crane and remotely controlled a window washing machine. The machine traveled up and down inside the ribs of the opposite building cleaning each window.
Just before we left they opened up the roof area and we were allowed to go onto the roof. there was a walkway which stood about 15 feet up from the roof which surrounded the whole roof. A helicopter pad stood in the middle of it. It was still quite windy and my glasses blew off of my face but I caught them before they fell off the grating below. We didn't stay long up there because the wind was blowing my wife and daughter's hair into their face stinging them.
A few years later after the first bombing, we were watching a special on tv about the bombing in the basement of the WTC. As the program was ending the narrator was talking about the security in place to help prevent another bombing from below the buildings. As she was talking I saw a plane flying behind the WTC in the background of the TV shot. In the shadows it looked as if they were flying into the building as they passed. I blurted out,
"they'll never bomb it from the inside again-the security is too tight-Look at the plane flying in the background- that's what they'll probably do, fly a plane trough it!"
How innocently prophetic for I never then suspected such a thing would really happen since they had so many security measures in place. How shocked I was when such a thing really happened!
I hope we as Americans will not live in fear of what has happened. If we return to our roots, and what this country really stood for, then we will be a strong nation again. Let us once again put our faith in Jesus Christ and in the foundational truths that made us strong when we were first a nation.
Deb's husband- Court
Now... from me...
I was home with the kids. After Court called we got the t.v. on. Then it was getting to be to much for my kids and I sent the younger ones to play in their rooms... or maybe they went to play in the basement... I don't remember. I can't remember if the either of the girls stayed to watch with me or if it was too much for them also. Rachel was 15 yrs. old, Jessica 12, Nathan 7, Christopher 4. I remember being glued to the t.v. and being concerned about my hubby out on the roads still. I was grateful when he finally got home to us. It was a tragic day in our history and one we need to remember. God was with us. It was up to us to accept his help, accept his Son as Savior just like it is today. My daughter posted a poem I like about 9-11 on their devotional blog called, "Meet Me in the Stairwell." If you have not read it I encourage you to go to their blog and read it. Here is the link:
Salvation and 9/11.
God Bless America
all content on my blog is ©
Grab my button on my sidebar and join me in doing the Blast From The Past... you can post any old photos... from yesterday to years ago. The linky below will allow you to add your link any day this week up to Sat. the 19th at midnight. So you have plenty of time to get your post done. Then come back and link up so we can all read your post.