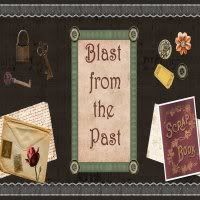 Blast From The Past occurs on
Tuesdays
Snowy Day
February 1995
Rachel (age 8) holding Nathan (age 19 months)

Nathan did not stay out long.

He could not walk in all those clothes or in his boots in the snow.

Rachel

This was either another day or later since Rachel is now in a different coat and her snow pants.

I know it is a little hill but you can have fun with what you have.

Jessica (age 5)

Playing in the snowy playhouse.

Using the baby doll carrier to carry snow!
We were living in this trailer at the time.

10ft. by 60ft. I think.

There were 5 of us.

Two bedrooms.

The only inside door in the house was on the bathroom.

We used the "porch" for storage, not for sitting.

Looking back...

makes me so thankful...

for our Habitat Home that we live in now.

I hope you enjoyed this weeks Blast
Now it is your turn!!
Post a picture from your past... yesterday... days gone by...
Pictures of you, your family, your kids, your spouse...

Make sure you take my Blast From The Past button to put in your post. Tell your readers to click on the button to come to my blog or leave them a link at the bottom so they can read my post and participate if they want to.

Don't forget to come back and sign Mr. Linky
so we can all go read your post!!!

Debbie