I want to blog about some older Homeschool Memoirs that I missed and look like so much fun. I hope you enjoy them. I will do them in separate posts so that they can be added to Mr. Linky even though they are late.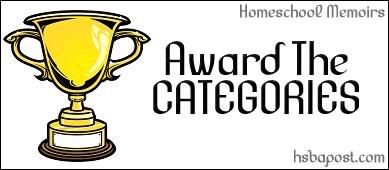 THEME
This week I want to invite you to nominate your family to their correct categories as well has have others nominate them. While my two sisters are listed under Best Teen and Best Design, those definitely are NOT the best traits they have nor the funniest.
This is how you do it…. you post the category that best describes each of your family members and write something about why you nominated them in that category, and you're welcome to post photos.
This was a hard one for me. Each family member has so many points I could have highlighted... well these are the ones I came up with for the post... there are so many more facets of each family member that I could have told you about... FAMILY... I LOVE YOU!! Mom
Best Jack of All Trades - Master of Many:
Hubbie - Court
good with anything electric or mechanical
good at art and music
great with computers
underutilized, unappreciated, and underpaid at work
Best Baker of All Things Sweet... and not sweet: Sweet DD Rachel
Rachel on her birthday receiving a gift of a cake cutter
a "sweet" gift for a sweet girl which she can use to make us many sweets
Best, Most Prolific Writer of all Genres - journalling, diary, short story, poems, novels, blogging, to do lists, letters, notes to her family, etc: DD Jessica
The only thing Jessica likes more than a new journal is
a HUGE pack of pens with which to write in her new journal
also check out her new blog just for young writers (and old writers)
Literary Pursuits
Best Lego Mindstorms Robot Creator: DS Nathan
This was last Christmas when he received his Mindstorms. He had no idea that we had gotten it for him. He had been saving up for almost a year and with the money he had saved, the money his grandmother put in and the money his dad and I put in we had enough to get it for him. This Christmas we got him the rechargable battery pack to make it work longer than he can with rechargable AA batteries. He has had many hours of creating and maybe one day soon I will post some of his creations since he does not have his own blog yet.
Best Bringer of Smiles to the faces of others : DS Christopher
All around goofball and crazy guy,
sweet boy who delights in talking to old and young
and brings so much joy into all our lives...
most of the time...
LOL
Well that is my family, such as they are, and now you know a little more about each of them
Debbie