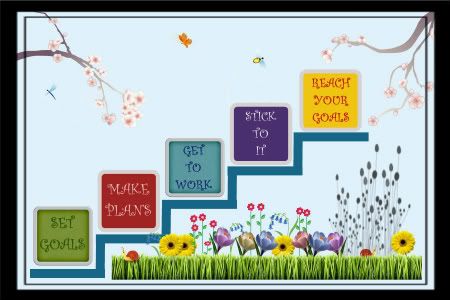 Though no one can go back and make a brand new start, anyone can start from now and make a brand new ending.
~Attributed to Carl Bard
A great month. I am doing well on most of my goals. I started working on exercise. Food is a struggle because of our financial situation. Other things are going pretty good considering the 3+ years of unemployment and the things going on with my hubbies health.
My hubby is recuperating from his first procedure. They did angioplasty on one area that was 95% blocked and put a stent in. He has another procedure on June 24th to fix a 70% blockage.
I also have a few procedures to go to fix my tooth. My root canal is finished. Now they are going to put a post in. Then they are going to get my tooth ready and put a crown on it. 3 more procedures and it is done. I don't know if it will be done by the end of June or not.
The main goal is in bold and under that are the smaller steps to reaching those goals.
The positive steps I have made with my goals this month have a smiling smiley face
in front, the goals that I still have to work on have a sad face
in front. Some are not really sad but that is the best contrast I could make between completed and not completed. The color thing was getting to complicated and I love smileys so I am sticking with them.
Spiritual
Health and Fitness
Educational
Personal/Leisure
How I did in March...
16 Done
0 Not Done
Previous Month's Updates in case you missed them and want to read...
January Jots ~ Yearly Goal Update
February Fun ~ Yearly Goal Update
Merry March - Yearly Goals Update
Accomplished April - Yearly Goals Update
If you made goals, make goals, or want to set goals post them on your blog and link up, just choose the size you want and copy the code from the little box beneath it. Past the code in your blog post at the top then write your goals. Tell you friends to click the button at the top of your post so others know how to join us if they want to.
At the bottom of the post I will provide a linky so you can join up and I can see your goals and how you are doing. If no one joins me that is fine too. I am doing this mostly for myself.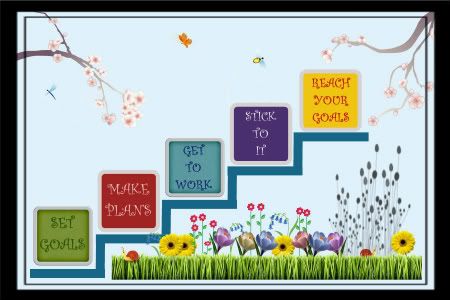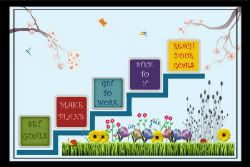 all content on my blog is ©