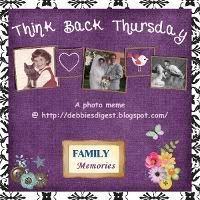 Unlike the cute picture above our family does not really enjoy the beach. Our favorite vacations are usually in the "off" season when the public school kids are back in school, and we like historical places.
I am featuring my favorite vacations we ever took.
Trips to Williamsburg, VA in 2001 and 2002.
At that time you could buy a year long pass to Williamsburg for less than it cost to make just one trip. We didn't think we could make many trips but we figured we could at least get there twice... just about a year apart... to make it worth the money we spent.
So here is the trip in October 2001
Historical Williamsburg
October 12, 2001
Playing on the harpsicord
Jamestown
October 12, 2001
Now for our trip in September 2002
Jamestown
Sept. 22th, 2002
Nathan, Jessica, Christopher
Yorktown
Sept. 23th, 2002
working with the Flax
Nathan was picked out of the crowd to help with the cannon demonstration
Run Nathan, Run!
Carter's Grove
Sept. 2

4

th, 2002
Historical Williamsburg
Sept. 25th, 2002
Patrick Henry if I remember correctly
The Governor's Palace
We had a grand trip. Unfortunately our youngest son remembers nothing from this trip. I wish we could make another trip. I hope to one day.
Now it is your turn. I'm sure lots of you have vacation pictures.
Wouldn't you love to share them with us???
July 4th Summer
July 11th Purple
July 18th Black and White
an old photo taken in black and white or one that you tweak in your photo program to make into a black and white photo.
July 25th Extended Family
Grandparents, Aunts, Uncles, Nephew's, Nieces, Cousins, etc.
all content on my blog is ©