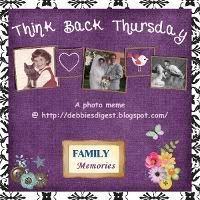 I am sharing Memorial Day photos and a couple videos from this year.
May 27, 2013
Monday, May 31, 1976 was Memorial Day
It was also the day my Father died. I was only 14yrs. old.
As was our tradition we were preparing to walk the 2 blocks to the parade route.
Instead of my parents and I going I was sent to the parade with neighborhood friends while my Mom went to the hospital in the ambulance with my dad.
My mom and I continued to go the parade.
Once I got married my family and I went to the parade in my hometown.
This year the boys stayed home.
Rachel stayed at my sister's house with my mom. The girls were staying with her for 12 days while my sister was in NC.
Court, my hubby, Jessica and I went to the parade.
Jessica and Silly Hubby
Jessica and I
I had so many photos that I did a slide show of the parade. It is a little long, but it is for me and for the memories for years to come.
The bands can be loud so before you push play to listen turn the volume down on your speakers.
Watch the cool steps they take at 1:12 (it's only 2 steps so watch carefully), and great drumstick work at 1:35-1:40
After the parade the tradition is to go to the Valley Forge Memorial Gardens cemetery and put flowers on my relatives graves.
This is my daddy's grave.
Me, sitting by my daddy's grave.
Oh, How I Miss Him
My grandparents (my mother's parents) are in the same cemetery and so are other relatives.
This is my Aunt. One of my mom's sisters.
This ends on a solemn note.. but not too solemn.
Because,
"...we do not want you to be uninformed, brothers, about those who are asleep, that you may not grieve as others do who have no hope. For since we believe that Jesus died and rose again, even so, through Jesus, God will bring with him those who have fallen asleep. For this we declare to you by a word from the Lord, that we who are alive, who are left until the coming of the Lord, will not precede those who have fallen asleep. For the Lord himself will descend from heaven with a cry of command, with the voice of an archangel, and with the sound of the trumpet of God. And the dead in Christ will rise first. Then we who are alive, who are left, will be caught up together with them in the clouds to meet the Lord in the air, and so we will always be with the Lord. Therefore encourage one another with these words."
1 Thessalonians 4:13-18 (ESV)
So... I am encouraged with these words and one day I WILL see him again.
Future Themes
June 13 - Exercise/Phys. Ed.
June 20 - Science
(if you don't homeschool, or if you don't want to do science,
then you can do

N

ature)
June 27 - Vacation
Mister Linky's Magical Widgets -- Thumb-Linky widget will appear right here!
This preview will disappear when the widget is displayed on your site.
For best results, use HTML mode to edit this section of the post.
all content on my blog is ©