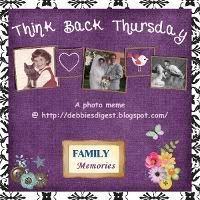 The purpose of

Think Back Thursday

is to link up a photo post about something from the past. You can reach back all the way to your childhood and bravely post pictures of you in your wild clothes and hair styles or post something from last year and tell us about it. I'm not picky. Hey, even

yesterday

was the past... LOL
I hope you will join us.
Wood
So sorry this is late. Life happens... things go crazy when you least expect them. I really need to work on these posts farther ahead! I want to work on next week's post today and tomorrow and have it mostly or all ready to go.
Climbing the Wood October 28, 1995
Up in the Wood June 1989
Up in the Wood Again June 6, 2011
Woods and Wooden Benches Amongst the Snow at Winterthur February 1, 2009
May 5, 2010
A Beautiful piece of growing "Wood" at Winterthur
A Crack in the Wood of a Tree at Winterthur
A Wood Knot
I found an Ent like Treebeard
May 10, 2010
My Ent in the Wood
See him?
Love this picture of the Woods at Winterthur, lovely pink flowers on the trees
Here are some wood projects I hope to work on in upcoming weeks
I plan to use this box in this way...
but not with Christmas papers. I want it in my bedroom.
The Best Wood there is... even though this is just a representation and not the original.
The Best Wood is the Wood of the Cross
Where my Savior Gave His Life for Me
January Themes
1/24 Silly
1/31 Black and White
2/7, 2/14, 2/21. 2/28 a series on Playing with Photos
What program do you use to fiddle with your photos?
Let us know and show some of the things the program does.

If you don't want to join in on this one... mine will be a series for all of February...
you can choose your own topics and post what you would like.

I have been wanting to do this on my blog and decided to do it for Think Back Thursday since I use a lot of photos for this meme. It will take some planning ahead to get this one ready so I am giving you all of Jan to work on it.
I look forward to seeing what you show us... whether you do Playing with Photos or your own thing.
Here are the Rules for participating:
It can be about you, about your kids, about your parents, whomever. You can include video, I will not exclude video alone posts, but I prefer them along with photos, as this is a photo meme. I am doing a weekly theme now. That should help narrow it down from the myriad of photos we all have. For ideas check out the other posts in my label Think Back Thursday.

Link up below.

Please use a permalink that sends readers directly to the correct post. If you are not sure what that is click the word permalink for an explanation.
Mention my blog and offer a link back. This is a requirement to take part and a kind gesture to me your hostess as well as your readers--they will know where to join in the fun, too.

You can put the Think Back Thursday button on your site and in your post. You will find it on my right sidebar. Please use it to link to my site, to spread the word about my meme. Using the button will help others know how to find me and how to join. Tell others to click on the button in your post to find us here.

Leave me a comment. First so that you can let me know what you think of my pictures and secondly so that I will know a new post has been linked up and I can come visit your blog and comment on your photos.
Join me!
all content on my blog is ©