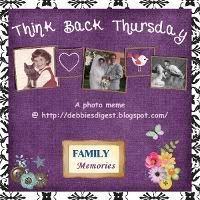 The purpose of

Think Back Thursday

is to link up a photo post about something from the past. You can reach back all the way to your childhood and bravely post pictures of you in your wild clothes and hair styles or post something from last year and tell us about it. I'm not picky. Hey, even

yesterday

was the past... LOL
I hope you will join us.
Today
Today I will be sharing photos that were taken in Black and White,
NOT photos that were changed to B&W with a photo editing program.
This is my mother when she was young. Mid 1920's I'd say since she was born in 1922.
This is me when I was young.I'd say about 1966.
Do you see a resemblance??? Do I look at all like my mom from her picture above?
I think I do.
This is my daughter Rachel
October 1987
My hubby took this with a Cannon AE1 with B&W film.
The pictures below here were taken with my Nicon Coolpix on Aug. 25, 2010
It has a setting on it to take photos in B&W.
I was playing with my camera trying to learn all about it
thanks to a 365 photo meme I was part of where you take a photo every day.
I really got to know my camera well that year and it was such fun.
So, these were taken in B&W with my camera... not changed to B&W like one photo will be next month.
Nathan, in the car
Ominous looking clouds... epecially in B&W.
My kids being silly outside of Shady Maple
A cropped photo of my hubby that was part of a larger photo like the one above... it came out really well so I cropped a portion so I could have one of just a close up of him... No other changes were made to the photo.
I
my hubby.


I hope you enjoyed these photos.

Now it is YOUR turn.
2/7, 2/14, 2/21. 2/28 a series on Playing with Photos
What program do you use to fiddle with your photos?
Let us know and show some of the things the program does.

If you don't want to join in on this one... mine will be a series for all of February...
you can choose your own topics and post what you would like.

I have been wanting to do this on my blog and decided to do it for Think Back Thursday since I use a lot of photos for this meme. It will take some planning ahead to get this one ready so I am giving you all of Jan to work on it.
I look forward to seeing what you show us... whether you do Playing with Photos or your own thing.
Here are the Rules for participating:
It can be about you, about your kids, about your parents, whomever. You can include video, I will not exclude video alone posts, but I prefer them along with photos, as this is a photo meme. I am doing a weekly theme now. That should help narrow it down from the myriad of photos we all have. For ideas check out the other posts in my label Think Back Thursday.

Link up below.

Please use a permalink that sends readers directly to the correct post. If you are not sure what that is click the word permalink for an explanation.
Mention my blog and offer a link back. This is a requirement to take part and a kind gesture to me your hostess as well as your readers--they will know where to join in the fun, too.

You can put the Think Back Thursday button on your site and in your post. You will find it on my right sidebar. Please use it to link to my site, to spread the word about my meme. Using the button will help others know how to find me and how to join. Tell others to click on the button in your post to find us here.

Leave me a comment. First so that you can let me know what you think of my pictures and secondly so that I will know a new post has been linked up and I can come visit your blog and comment on your photos.
Join me!
all content on my blog is ©