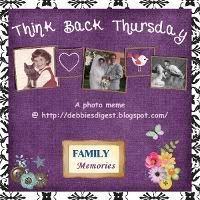 The purpose of

Think Back Thursday

is to link up a photo post about something from the past. You can reach back all the way to your childhood and bravely post pictures of you in your wild clothes and hair styles or post something from last year and tell us about it. I'm not picky. Hey, even

yesterday

was the past... LOL
I hope you will join us.
Now here are the themes:
Tomorrow 1/10
Reading
January Themes
1/17 Wood
1/24 Silly
1/31 Black and White
2/7, 2/14, 2/21. 2/28 a series on Playing with Photos
What program do you use to fiddle with your photos?
Let us know and show some of the things the program does.

If you don't want to join in on this one... mine will be a series for all of February...
you can choose your own topics and post what you would like.

I have been wanting to do this on my blog and decided to do it for Think Back Thursday since I use a lot of photos for this meme. It will take some planning ahead to get this one ready so I am giving you all of Jan to work on it.

I look forward to seeing what you show us... whether you do Playing with Photos or your own thing.
all content on my blog is ©