The
Eclectic Education Series
from Dollar Homeschool "is a set of textbooks which, from roughly 1865 to 1915, WAS education in the United States." WOW!!! This is an immense set of e-books. The amount of information on these pdf's is unbelievable. The Eclectic Education Series includes 5 CD's. Each of the CD's I have listed below with it's contents. You can see more details by
clicking here, to see a complete list of the books
with some more description on some of the titles. I will give you a rundown on the products we chose to use and what we thought of them. We chose to focus on a few areas, so we did not attempt the math or the science. Each subject has a dozen or so books with 1000's of pages. We received the pdf's as downloads but you would receive them on CD's as stated on the website.
And now on to the products:
History
: We used the Thalheimer Medieval History book. We are currently studying the Renaissance and Reformation and this time period is covered in this book. These books do not cover more modern history, of course, since they were written around the 1900's, but the older history is the same. I found the history book well written and fine for reading to the boys. We have now switched to the boys doing all their school on their own and I may in the future have them read some more from these history books as we cover topics that are included in these. I am not sure we will ever use the Cromwell books but the some of the others we will use. Included on the History CD are:
Thalheimer's Histories:

Ancient History
General History
Medieval History
English History
United States History

Cromwell: A history and collection of letters from one of the greatest men of English History, Oliver Cromwell.

Volume I
Volume II
Volume III

Progressive Course in Reading: Five books progressing in difficulty and covering the following topics:

Stories
Studies
Rhymes
Riddles
Information
Literature
Oral Expression

Cyclopedia 737 pages long
Andrews Constitution
American Poems
Rhetorical Reading: A detailed course on Oral Reading.
Good Morals and Gentle Manners
McGuffey Readers
: (These are the 1879 edition of McGuffey's Readers, or third edition.) We have never read the McGuffey Readers though I have had versions of them downloaded on my computer for years. I was glad to have a reason to actually have my boys use the books. I decided to have them both read aloud, taking turns, from the McGuffey's 5th Eclectic Reader. I enjoyed hearing the boys reading aloud and when we encountered vocabulary words that were unfamiliar we could just look down at the bottom of that story and we usually found the unknown word with it's definition. The boys, unfortunately had a different view of this. They hated reading aloud. They griped and complained and drove me crazy! I hope to encourage my children to use these with their kids. The stories are short and the morals of the stories are as good as the stories themselves. I loved it! I wish the boys liked it too. Maybe if I started them doing this at a younger age they would have been more receptive. I highly recommend trying the McGuffey readers.
I previously found a website with some information comparing McGuffey Readers to other vocabulary and unfortunately I could not find it again. If I locate it I will do a post on it. For now, while I was looking for the other article, I found this... very interesting!
http://tdpower.blogspot.com/2007/09/on-mcguffey-readers.html
Now here is the list of books from this CD:
McGuffey's 1st Eclectic Reader and McGuffey's Primer
McGuffey's 2nd Eclectic Reader and McGuffey's Alternate 2ndEclectic Reader
McGuffey's 3rd Eclectic Reader and McGuffey's Alternate 3rdEclectic Reader
McGuffey's 4th Eclectic Reader and McGuffey's Alternate 4th Eclectic Reader
McGuffey's 5th Eclectic Reader and McGuffey's Alternate 5th Eclectic Reader
McGuffey's 6th Eclectic Reader
McGuffey's New High School Reader
McGuffey's Word List
McGuffey's Eclectic Speaker
McGuffey's Juvenile Speaker
McGuffey's Eclectic Speller
McGuffey's Familiar Animals and McGuffey's Living Creatures- McGuffey's Natural History Readers
Hemans Reader for Female Schools; containing extracts in Prose and Poetry.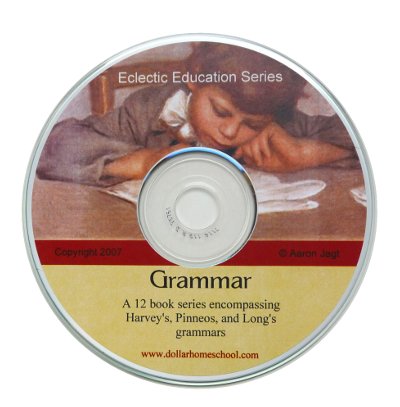 Grammar
: We used the Harvey's English Grammar. One of the things I found hard was to figure out where to start with my boys. The book I selected was a little below the levels in the books that we regularly use. Some of the rules seemed outdated. We did not really like the format of the Grammar. The boys have been doing their schoolwork all on their own with me only overseeing, making sure they do what they were assigned and grading/looking over their work, these are meant to be done together, as a class. The following books are found on the grammar CD:
Longs Language- 1st, 2nd, 3rd, and 4th Reader Grade
Pinneo's Grammar
Pinneo's Primary Grammar
Pinneo's Analytic Grammar
Pinneo's English Teacher
Pinneo's Composition
Pinneo's False Syntax
Harvey's Grammar
Harvey's Elementary Grammar
Harvey's First Lessons in English
Harvey's English Grammar
Teachers Books (included on the Grammar CD)
Manual of Methods. 261 pages
Question Book. 165 pages
Successful Teaching in Rural Schools. 294 pages
Math
: We did not attempt the Math. I am sure other TOS Crew members did, and some reviewed only the math portion, so you can check out the other reviews at the TOS Crew blog, link is near the bottom of the post. Here is a list of the books on the CD. You can get more details at the website.
Ray's Primary Arithmetic. 95 pages
Ray's Intellectual Arithmetic.

141 pages

Ray's New Elementary Arithmetic

192 pages

Rudimentary Arithmetic.

193 pages

Ray's New Practical Arithmetic

. 337 pages

Ray's New Higher Arithmetic.

409 pages

Ray's New Elementary Algebra.

241 pages

Ray's New Higher Algebra.

407 pages

Test Problems for Higher Algebra.

152 pages

A Complete Algebra.

359 pages

Ray's Treatise on Geometry and Trigonometry.

421 pages

Ray's Analytic Geometry.

608 pages

Ray's Differential and Integral Calculus.

442 pages
I did not at this time attempt any of the science. We are studying Chemistry right now and the Chemistry book was way over my head and required chemicals I do not have nor have the desire to search for (Norton's Elements of Chemistry.
301 pages
) The Nature Study book, Intro. to Biology, and Intro. to Botany books looked very good but we are not studying those subjects right now. Beside those books, the CD for Science includes:
Norton's Elements of Natural Philosophy.

468 pages

Norton's Elements of Physics. 269 pages
Ray's Elements of Astronomy. 342 pages
Ray's Surveying and Navigation. 492 pages
Complete Book Keeping. 161 pages
Schuyler's Principles of Logic. 169 pages
First Year Science.

505 pages. Meant for High School Students, this book is an introduction to many different forms of science; Physics, Chemistry, Meteorology, Botany, Zoology, Physiology, Astronomy, Physiography, Forestry, and Agriculture are all treated

Political Economy.

396 pages

Simplified Industrial Mechanics.

289 pages

Guide to Health
Out of five stars we give the Eclectic Education Series from Dollar Homeschool products:
I considered doing two stars and decided that might be a little to low, I am not sure, I went back and forth. If I had a 1/2 star I may have done 2 1/2, but I don't so I went with three stars.
I have a couple of problems with these products. First of all, a lot of it can be found on the Internet for free. Yes, Dollar Homeschool did do the work of collecting these books and some of them cannot be found on the Internet for free. If you were interested in the products you could search for them yourself and then buy the CD only for the ones you could not easily locate and were really interested in.
Another problem I have is the expense. If I was not given this for free for review I would not have spent the money for these products. Unless you plan to use them for multiple children over a number of years I do not think it is worth the money. A friend of mine saw that I was reviewing this product, I mentioned it in another blog post, and she was excited because she thought this would be some inexpensive homeschooling materials. Unfortunately that is not the case. The entire Eclectic Education Series, including:
Ray's Arithmetic
,
Science
,
History
,
Grammar
, and
McGuffey's Readers
is available on CD's for $159. You can buy the CD's individually, but if you bought them all it would cost you more that way. If you have a single CD you want that would be significantly cheaper. See the website for individual CD prices.
Also, the products did not fit our way of homeschooling at this time. I wish I had used the McGuffey Readers with my children as they were growing up, as I said before. But it is too late to go back. We will not be continuing to use the products we already tried, except for the History, but we may try some of the other science books if we touch on subjects in those areas. I may also take a closer look at the Good Morals and Gentle Manners pdf and may use it for our opening devotions in the mornings or for our Building Life Relationships class.
Lastly, there were problems with some missing pages. The company said they fixed the problem that was found with the pdf's that were missing the pages but they only sent crew members the missing pages in a separate pdf. So you would have to read a little, switch pdf's read a couple pages, then go back to the first pdf... very annoying. I did not bother even asking for the pages. I just downloaded that book for free from the Internet, complete and without the missing pages. Hopefully if you purchased the CD and had problems they would send you the whole corrected file, since we got the stuff for free I guess they thought just sending the missing pages was o.k.
Also, check out other TOS Crew members reviews and see what others have to say at the
TOS Homeschool Crew Review Blog
.
***
Dollar Homeschool
provided me with the complete Eclectic Education Series by pdf download so that I could do my review. Though I received this product for free I have given an honest review of it here in this post.
Debbie