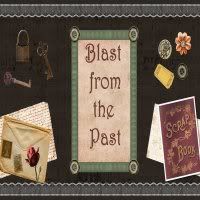 Click the
Blast From The Past Rules
tab above to see the rules for my meme if you are a first timer or if you forget the rules.
Ok this has to be fast. I am late getting this up, sorry Michele, and anyone else waiting to link up. I will try, try, try, to get it up early Friday next week. I am going to work on next week's Blast... tomorrow or Sunday.
This is my son Christopher... such a cutie.
Sound asleep on our couch.
He is about 15 mos old here.
He could sleep anywhere... just like his mom.
I am sure, after I took the picture, that I put him to bed.
We did have cushions on the back not just wood, the boys probably pulled them off and they are probably nearby on the floor. This couch went through a lot of abuse over the years and we still have it and the original cushions in our basement. We have had it for about 18 years or so.
Grab my button from the sidebar, post some pictures of your kids, family, yourself on your blog and link up below.
all content on my blog is ©