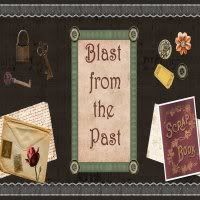 This week I am featuring My Mom and my daughter Rachel.
My kids, like some of my nephews and nieces call my mother Nan.
She is the only grandparent my children have ever known.
My Dad died in 1976 when I was 14.
My husband's Father died in 1982. Two years before we got married.
Court's Mom died in 1988 when I was pregnant with Jessica. Rachel does not remember much about her.
I may post pictures of Court's parents later. I have done a few of my dad, I will do more.
Anyway... here are this weeks pictures of My Mom, Beatrice E. Weaver and my daughter Rachel.
These two pictures are from 1986.
The one above from Rachel's first Halloween.
The one below is from Christmas.
This is from last Christmas, 2009. Rachel made the hat that my mom is wearing, and the ornament she is holding.
I hope you will join me in doing the blast this week. Read the rules, grab my button and link up.