You are going to LOVE this post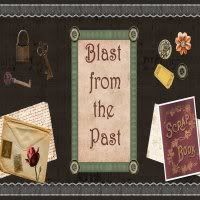 You will find the rules for participating as part of my first Blast by clicking this link
Do you like Pancakes?
Do you like Biscuits?
Jessica has always liked Pancakes or Biscuits and Gravy Better than Cereal
and here is the proof.
Even when she was one year old she prefered eating Pancake Mix to containers of Cereal.
What kid do you know who would pass up perfectly edible cereal for Pancake Mix.
Dry!!!
Uncooked!!
Right out of the Box!!!
Jessica Would!!!
As they say...
A picture is worth a thousand words!
So I will let this picture speak for itself
Jessica
Approximately 1 yr. of age
Summer 1990
Yes, She is eating Jiffy Baking Mix right out of the box!
She pulled the cereal out of the cabinet and set it on the floor next to her and ate the Dry Jiffy Baking Mix instead!
Oh, and you can click on the picture to see it even bigger and with more detail.
Do you have funny, embarrassing, cute, adorable pictures of your kids you are dying to share.
Or, maybe you have embarrassing photos of you from the 60's or 70's with weird hair styles or psychedelic clothing.
Then go and do your post and then
come back here.

Mr. Linky is still not working, the owner of the site is having serious overload issues. I cannot afford a paid membership right now so...

you will have to just leave a comment so we can all visit each others Blast From The Past.

So leave a short comment with your Blog Post Link and Don't forget my Blog button (it's on my sidebar) put that at the top of your post and tell other to click the button and/or give your readers a link to my post, ask them to join us here if they want to.

just a little plug
make sure you check out my post on the

and get your ticket TODAY

,
the UHSE started yesterday but it is never to late to get a ticket
with your ticket you get:
at least 75 audio downloads
lots of freebies from the vendors
and MUCH more!
Details at the link above
and new this year
access to 6 kids classes your kids can listen to on mp3
and the goodies that come with those
some of the kids classes are:
Geology Dig into Rocks and Fossils with Felice Gerwitz
Civil War to Civil Rights with Angela Broyles
Make Your Writing Great with Cindy Rushton

when you buy a ticket from my links you support me.
So that is the Blast for this week.
Grab my Blast From The Past button
Do your post
Leave a comment with your name and post link
Join the Fun
Debbie