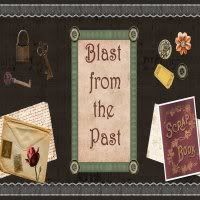 You will find the rules for participating, and a cute photo of me, by clicking this link

and don't forget to come back here!!!
I suggest opening the above link in a new tab to make it easier.
This weeks blast is brought to you by...
Purple Knit Giraffe Fabric, Inc.
LOL
Hah
I came up with that one myself!
could you tell??
LOL
and now for the picture
Oh, you must click on the picture and see it bigger.
It is too good to miss the details!
Make sure you noticed my stylish glasses
and don't you love those bright purple tights!!!
What could have made me wear this outfit...
it was the 70's
nuf' said
but also my Aunt Ruby worked for a Stretch and Sew Fabric store
that only sold 100% polyester material...
and...
I loved, and still do love,
purple
though now I would not wear that much purple!!!
or giraffes on my dress!
or that short of a dress for that matter!
or 100% polyester!
LOL
So I hope you enjoyed that look back and I hope you will participate.
I used to use Mr. Linky for you all to link up you posts but he is having troubles with his site and I don't have a paid account, yet, though I want one.
So for now instead of Mr. Linky just leave a comment with your name and post's link.
If you do not want to do a post of your own you are still welcome to comment on my lovely purple outfit and glasses!
But come on and join the fun!
Don't you have embarrassing photos of yourself when you were young,
or embarrassing photos of the kids,
or cute ones!
Come on and share!
Have a blessed week!
Debbie