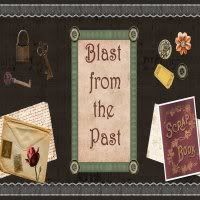 You will find the rules for participating as part of my first Blast by clicking this link

My Blast From The Past for this week is Memorial Day Past and Present. I will not bore you with endless photos I will just do a couple from a few past years and a few from this year. I will probably do a more detailed post about this years Memorial Day Parade and activities Wed. or Thurs. so watch for that then. For now enjoy...

Memorial Day 1993
Left to right
Me, Jessica, Rachel, my husband's friend Olin

Memorial Day 1998
Christopher




What is better than seeing a Parade???
Being In One!!!
Memorial Day 2001

I will not bore you with all the names of people you do not know I will just tell you
my son Nathan is the second from the left... the first little boy
trying to keep up with the big boys

Jessica is the one in blue
Rachel is the third from the left
Rachel's dress looks all white but actually the dress is pink


Memorial Day 2007

One of our traditions each year is to buy fresh cut flowers and take them and put them on the graves of my family members, especially my Dad.
My dad died 33 years ago in 1976 when I was only 14.
I still miss him.
I will do some pictures of him soon.
For now here are the kids and my mom working on making
bunches of flowers to put on the graves.

My dad's grave marker
as you can see he was a veteran of WWII


Us at this years parade
Rachel, Mom, Me, Court, Christopher and Nathan

My Mom bought us the new chairs with the awning over them. We got 15 comments about them. One from a lady walking by and 14 from people in the parade. It was hysterical. There are these people in cars and some of them veterans, some of them with old cars and they are leaning out their windows, waving to us in the crowd and making comments to us about our "cool" chairs. It was so funny. My son kept track of the comments so we could put it on the blog.
Rachel, Mom and Jessica (Jessica sitting on ground in front)

The Cemetery

Putting flowers on the graves

I hope you enjoyed my Blast From The Past for this week.
I hope some of you will join me!
Now go and do your post and then
come back here. Mr. Linky does not seem to be working this morning so you will have to just leave a comment so can all visit each others Blast From The Past. Don't forget my Blog button (it's on my sidebar) and tell other to click the button and/or leave them a link to my post for them to find me and join us.

Have a great week,
I hope you made some memories and/or participated in some traditions for your family this past weekend. If you don't have any traditions for Memorial Day... plan to start some for next year,

and make sure you check out my post on the

and get your ticket TODAY





Debbie