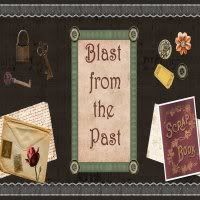 Welcome to the Blast From The Past Carnival
First my post for today
Then the spot where you can find the rules for participating if you need them.
Then Mr. Linky
Today I am featuring my Son Christopher
He is now 12 years old.
These pictures are from 1998 and Christopher was 15 mos. old
I'm a good boy! I cleaned my plate!
It's all on me now!
This may have been his first Ice Cream Cone, I am not sure!
Whether it was or not he sure enjoyed it.
Peanut Butter and Jelly anyone???
Help!!!
How did I get myself into this mess???
Is someone going to help me or are you just gonna keep takin' pictures???
Well, that was a look back at Christopher
I hope you enjoyed my Blast From The Past for this week.
I hope some of you will join me!
You will find the rules for participating as part of my first Blast by clicking this link
Now go and do your post and then
come back here
and sign Mr. Linky so we can all visit each others
Blast From The Past. Don't forget my Blog button (it's on my sidebar) and tell other to click the button and/or leave them a link to my post for them to find me and join us

Have a Great Week,
Debbie