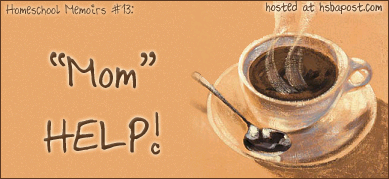 Written by Miss Jocelyn on November 12, 2008 – 12:00 am -
Homeschool Mothers do a lot in a day…. I'd say they do more than the working mom because they have to care for the kids, the house, the meals, and much more. They are constantly on the go and with the kids! Sometimes you just need a break. You need to sit down and have a break. While I'm not a mom - YET - I know there I are times I need to sit down for a breather.
THEME:
This week I'd like to invite you to share what YOUR "Mom" help is. Some drink coffee, soda, or chia-tea. Others check email or read their favorite blogs. Some talk a walk…. what do you do when you need to clear your head and take a breather?
Scripture Share:
Please share a Scripture that gives you a "mom" help when you're spirit is feeling overwhelmed.
I do a number of things to take a breather:
Read my e-mail
Write in my blog
Read other blogs
Read something for pleasure (not for school, not to the kids, not about homeschooling, just a good fiction book just for me). Right now I am reading Riven by Jerry B. Jenkins (see our Shelfari in the sidebar).
Once in a while when really stressed I like a loooong bubble bath with Calgon or other nice smelling bubbles or bath crystals
I like to do scrapbooking, which I have not done in a while
but want to get back to
I like to watch movies with my dh
I like to play a computer game or two
I do not, of course, have time to do each of these every day, or even every week, but these are the things I like to do just for me.
Scripture:
Romans 8:28-39
"28
And

we know that all things work together for good to them that love God

, to them who are the called according to his purpose.
29 For whom he did foreknow, he also did predestinate to be conformed to the image of his Son, that he might be the firstborn among many brethren.
30 Moreover whom he did predestinate, them he also called: and whom he called, them he also justified: and whom he justified, them he also glorified.
31 What shall we then say to these things? If God be for us, who can be against us?
32 He that spared not his own Son, but delivered him up for us all, how shall he not with him also freely give us all things?
33 Who shall lay any thing to the charge of God's elect? It is God that justifieth.
34 Who is he that condemneth? It is Christ that died, yea rather, that is risen again, who is even at the right hand of God, who also maketh intercession for us.
35 Who shall separate us from the love of Christ? shall tribulation, or distress, or persecution, or famine, or nakedness, or peril, or sword?
36 As it is written, For thy sake we are killed all the day long; we are accounted as sheep for the slaughter.
37 Nay, in all these things we are more than conquerors through him that loved us.
38 For I am persuaded, that neither death, nor life, nor angels, nor principalities, nor powers, nor things present, nor things to come,
39 Nor height, nor depth, nor any other creature, shall be able to separate us from the love of God, which is in Christ Jesus our Lord."
Romans 15:13 "Now the God of hope fill you with all joy and peace in believing, that ye may abound in hope, through the power of the Holy Ghost."
Psalm 4:8 "I will both lay me down in peace and sleep: for thou, Lord, only makest me dwell in safety."
Psalm 27:1 & 14 "The Lord is my light and my salvation; whom shall I fear? The Lord is the strength of my life; of whom shall I be afraid?" "Wait on the Lord: be of good courage, and he shall strengthen thine heart: wait I say, on the Lord."
Have a God filled day,
Debbie