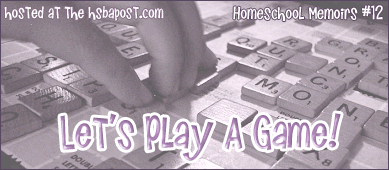 Homeschoolers are very resourceful people. They use what they have and use them to their best ability. I know in our home many times people ask us how we use this or that for learning, and we are happy to explain it's value. I think the main thing that a lot of people miss is that life is learning, and you must use everything in your home for learning otherwise you won't fully be prepared.
THEME
This week I want to invite you to share what different games you use for learning in your homeschool. Outside games, board games, or card games, and what purpose or subject you use them for.
Here is the list of Games we use for School. If yo
u have questions about a particular game just let me know and I will give you more information.

In honor of the Let's Play a Game list we played games for school today. Here are some photos of that.
Ok here's the list:
Bible
Omega Expedition
Bible Outburst
Apples to Apples - Bible Edition
Scattergories – Bible Edition
Bible Trivia
Bible Challenge
Bible Mad Gab
Bible Outburst
Chicken Soup for the Soul
Bible Brainstorm
Bible Pictionary
Pilgrims Progress Game
Language
Word Yahtzee
Wordigo
Boggle
Boggle Jr.
Mad Roll (a mad libs game, really fun)
Language Detective
Apples to Apples (and Jr.)
Backwords
Upwords
Rummy Roots
Catch Phrase
Math
Equate
Coins Make Change Bingo
Moneywise Kids
Presto Change-o
24 Game
Math Mouse (can't buy it now)
Pizza Party (fraction game)
Blockus (Strategy – sorta Geometry)
Blockus Trigon (Strategy – sorta Geometry)
Science
Professor Noggin – Outer Space
Professor Noggin – Famous Inventions
Who's At Home
Photo Trek
David Macaulay's The Way Things Work Game
Rocky Bingo
Somebody (human body game for young kids)
Where in Space is Carmen San Diego?
History
Learning Games:
Presidents Game
The Revolution Game
Civil War Game
World War I Game
World War II Game
Life in Colonial Williamsburg
Knights and Castles
Professor Noggin:
Ancient Civilizations
Medieval Times
Explorers
Where in the World is Carmen Sandiego?
Where in the USA is Carmen Sandiego?
Where in the World is Carmen Sandiego Jr?
Where in the USA is Carmen Sandiego Jr?
Where in Time is Carmen San Diego?
The American Girl Game (sorta history – questions are about the books)
We have other younger kids games put away for our future grandkids and for if we do any babysitting or have a family over with younger kids... we have a lot of games. We also have other just for fun games I will list another day.
Enjoy your day with your kids and Make a Memory
I will be there tomorrow!!! Will you???
Check it out here:
Have a Blessed Day,
Debbie