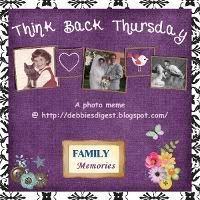 Tomorrow July 11th
Purple
Purple is a favorite color for me. Mostly I wear it, I don't really decorate with Purple though I wouldn't mind purple in a bathroom... I have thought of doing that. Accents, not wall color. I will be spending a lot of time today looking for favorite photos full of Purple. I know of one that I will definitely be sharing.
I know I have some purple flowers to share... I just took pictures of my Hydrangea bush a week ago or so. I hope you are busy looking for Purple pictures as well, or maybe you are ahead of me and have you post all ready.
Future Themes
July 18th Black and White
an old photo taken in black and white or one that you tweak in your photo program to make into a black and white photo.
July 25th Extended Family
Grandparents, Aunts, Uncles, Nephew's, Nieces, Cousins, etc.
all content on my blog is ©