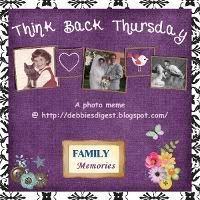 Grandparents, Aunts, Uncles, Nephew's, Nieces, Cousins, etc.
Today I will be sharing SOME of my mother's side of the family.
These are my grandparents on my mother's side. My mother's mom and dad, George and Bessie Reinhart. My grandfather lived from 1878 to 1959. I was not born until 1961 so I never met him. My mom-mom was born in 1885 and died in 1970. I remember a little about her, but not much. I was 9 when she died.
They are buried just a little way from my dad. We usually put flowers on their grave when I visit my daddy's.
In the next picture... front row right, seated, is my grandmother, mom-mom Reinhart. Next to her, seated left, is her sister Annie. Behind them on the left is mom-mom's brother Cleavy. On the right is mom-mom's brother Clarence. In the middle is mom-mom's son, the oldest child, my mother's brother, Franklin. He looks a LOT like my grandfather. As you can see on the side this was printed in Feb of 1969... it was probably take summer of '68.
I remember nothing about Great Aunt Annie, she may have died before I was born, or when I was very young. I don't remember anything about my Uncle Franklin (my mom's brother) I know he died before I was born.
I do remember my Great Uncle Clarence and my Great Uncle Cleavy. I remember visiting in their homes. I remember the pool table in Great Uncle Clarence's basement and the big garden they always had. I remember the men in the basement smoking cigars and playing pool. I remember helping pick the veggies from the garden and helping get them ready to eat. They both lived, not far from each other, in New Jersey. We went to visit them often and had big family parties with Great Aunts and Great Uncles, Aunts and Uncles and lots of cousins.
My mother had 6 sisters and one brother.
This is their order of birth: Franklin, Ruby, Pearl, Mabel, Beatrice (my mom), Evelyn, Grace, Charlotte
. The brother, Franklin, is in the picture above with my mom-mom, Great Aunts and Great Uncles.

This is my Aunt Mable, one of my mom's sisters, with my brother Lew and my sister Chris.
I am sorry to say I don't remember her at all. As you can see from her tombstone below she died when I was almost 7. I should remember something. I have other memories from that time, but I just don't remember her.
She is buried just under mom-mom and pop-pop, which is just up from my dad's grave.
Here is a picture of my mom with her sisters.
Left to right is Pearl, my mom, Evelyn, Grace, and Charlotte.
I remember some about Aunt Pearl. She was nice and she had great kids that I loved playing with, they were always nice to me, though older than I was. Her daughter Grace was especially nice to me at family gatherings. Aunt Pearl's husband, Raz, was a hoot.
I have a lot of memories of Aunt Evelyn. We spent a lot of time at her house. My dad liked to go on rides on Sunday after church and we would end up at family members homes often, those that lived close enough, and Aunt Evelyn and Uncle Jack's home was one of those. I remember many times having family parties at her home. I remember churning ice cream by hand for family parties on her porch and getting stung by a bee on my stomach when I laid on the bee under a picnic table at one of the family reunions at her house.
Aunt Evelyn is the only sibling my mom has left alive now. Mom is 90 and I think Aunt Evelyn is just a year younger. They did not talk to each other for 15 years but since my Aunt Charlotte died last year they have been talking on the phone, often. It is amazing what God can do in restoring relationships.
I will talk more about Aunt Charlotte and Aunt Grace after the next picture.



My mom and some more of her sisters in the next picture. This is more recent than the last picture. I would say some time in the late 60's or early 70's because of my mom's dress.

My mom is in the back. Middle left is Aunt Ruby, right is Aunt Grace, down front is Aunt Charlotte.
I am happy to say I have many happy memories of all three of these Aunts. Especially Aunt Charlotte and Aunt Grace.

Aunt Charlotte used to work in the kitchens of the elementary/middle school where I went when I was growing up. I used to stop by often, in the kitchens or her office. and chat with her, and get a treat, usually some kind of ice cream. At that time they lived just one little town away from us but in the same township. Aunt Charlotte died just last year.

My mother also worked in the kitchens at the elementary school when I was growing up, so that was cool, they could work together and I saw my mom at lunch every day. She was off from work when I was off from school, it worked very well.

We used to visit my Aunt Grace often. Mom-mom lived with her in her later years. Our cat Tuffy was given to us by Aunt Grace, they found her in a box car that had come all the way from California to her work. She was declawed, skinny and had lost her voice (no meowing) from meowing all the way from California, trying to get out. We fattened her up and had her a long time. I loved Tuffy. She died when I was in college. We also had a yearly tradition, for a long time, of visiting Aunt Grace on the weekend of the finals of the Wimbledon tennis competition. We had lots of family parties at their home also.


Aunt Grace's grave. She is buried just under mom-mom and pop-pop Reinhart next to Aunt Mable.
So, those are some of the family on my mother's side. I actually had pictures of all her siblings. There are lots more cousins and extended family we hung out with when I was growing up... and there is the whole other side of the family... though I don't have as many photos of them.
I miss those days of family reunions and frequent family gatherings. I hardly see any of the extended family now.
What extended family members are you sharing today???
I can't wait to see.
Future Themes
August 1 - Sleep / Sleepy / Tired
August 8 - Garden / Gardening
your garden or one you visited, flowers or vegetables
August 15 - Stream / River
Mister Linky's Magical Widgets -- Thumb-Linky widget will appear right here!
This preview will disappear when the widget is displayed on your site.
For best results, use HTML mode to edit this section of the post.
all content on my blog is ©