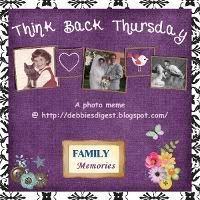 I decided to share some really old photos... of me and my parents.
Summer 1970
I was 9 years old.
Evidently we went on a trip to Williamsburg.
Sleeveless Dresses
Summer Vacations
Summer Sandles
Me - A stop on our way south
at one of the hotels we stayed at.
A reenactment with soldiers, and guns being shot off.
I am sorry to say I don't really remember this trip. A lot of things from my childhood I only know because someone told me or I saw it in a photo. I am so glad to have these photos though. Memories of happy times with my parents.
Boy, my dresses were short. Love my socks and dress and that mom was wearing dresses in all the photos too. Not that we wore dresses all the time... but that we dressed up on our vacation. My 'cat' glasses were popular at the time. I still have a pair form my childhood that I kept.
The quality of the photos is partly because of the camera we had... not a really good one... and partly that my parents, mostly my mom, was always taking blurry pictures or cutting people's heads off. Those facts are part of the memories as well. It makes me smile. I try to hard to get good photos now. Taking multiple shots most of the time to assure at least one good one. I still only have an ok camera though. I love my point and shoot Nikon Coolpix. Hubby and my dd's use our professional camera but I am happy with mine, not that I wouldn't like a better camera, I would. But at least my camera is mine and I don't have to share or 'fight' for use of it when we take trips like my husband and daughter do with the professional camera.
Summer FUN
Now it is your turn.
July 11th Purple
July 18th Black and White
an old photo taken in black and white or one that you tweak in your photo program to make into a black and white photo.
July 25th Extended Family
Grandparents, Aunts, Uncles, Nephew's, Nieces, Cousins, etc.
Mister Linky's Magical Widgets -- Thumb-Linky widget will appear right here!
This preview will disappear when the widget is displayed on your site.
For best results, use HTML mode to edit this section of the post.
all content on my blog is ©