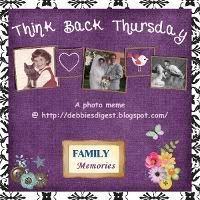 The purpose of

Think Back Thursday

is to link up a photo post about something from the past. You can reach back all the way to your childhood and bravely post pictures of you in your wild clothes and hair styles or post something from last year and tell us about it. I'm not picky. Hey, even

yesterday

was the past... LOL
I hope you will join us.
Playing
with
Photos
I use Picasa to edit my photos.
I want to start by saying I have no affiliation with
Picasa
. They have not asked me to do this review... nor have I received anything for doing it. I am doing this because I love this program and wanted to share the program with my readers.
I love the new features they recently added. I thought it would be fun to take a few weeks and share the program with my readers. I had showed this program to a friend and she was impressed by what it could do but had never heard of it before.
Oh, and by the way.. the program is
FREE!!
*********************************************************
Ok... this week we are looking at the features of Tab 3 of Picasa
Screenshot of Tab 3
Screenshot of Tab 3 close up
here you can see all the features we will be covering today
Original Photo
Family 04-16-12 03
I love these tulips. This photo was taken at Longwood Gardens
Feature 01 Sharpen
Sharpen works especially well on the stems of the tulips
Feature 02 Sepia
Sepia is mostly used for portraits... but it an interesting look here.
Feature 03 black and white Also mostly used for portraits... and also an interesting look.
Feature 04 warmfly Also mostly used for portraits and you can see the difference better in portraits.
I wanted to show you how the first 4 features work with a portrait... so here you go.
The original
Family 04-1992 001
This is my daughter Rachel, she was 6 years old.
Black and White
Looks as good in Black and White as in color
SepiaI hardly ever use the Sepia feature. I like the color and the black and white better.


Warmfly
Warmfly warms up the picture. This one doesn't need warming up but I didn't want to look for a photo that did need some warming up. Warmfly made her face look warmer... but also her hair got to red.



Now back to the flowers

Feature 05 Film Grain
Self explanatory, simulates a grainy photo like you used to get with print film.
You can adjust the amount of grainyness.


Feature 06a Tint There are lots of colors to choose from to tint your photo. This one looked very interesting in yellow.


You can also adjust the amount of tint you use for the photo.
Feature 06b Tint
Same color yellow, but tinted a smaller amount so you still see some of the original colors.


Feature 07a Saturation
More Saturated
You can adjust the amount of Saturation
This looks too saturated... but you can see the effect well
Feature 07b Less Saturated
I like the way the muted tones look here.
Feature 08 Soft Focus
This looks interesting... it looks really good with portraits.
You can adjust the width of the part that is in focus.
Feature 09 Glow
Makes the whole picture... ummm... glow
Feature 10 Filtered Black and White
Screenshot close up
This screenshot helps explain this feature.
Feature 10a Filtered Black and White - green filter
Feature 10b Filtered Black and White - red filter
Feature 11 Focal Black and White
A cool feature where you can have color just in one spot and black and white for the whole rest of the photo. You can adjust the size of the cirlcle that is in color and you can move the center of the circle to any spot on the photo. This came out very well. I like the one red flower in the midst of all the others in black and white.
Feature 12 Graduated Tint
You can choose the color of the tint and the width of the tint.
You can also vary the amount of "feathering" of the line between the tinted area and the not tinted area. If you don't feather the line you get a strong break between the tinted area and the not tinted area. If you feather it a lot then it gradually turns from tinted to not tinted.
Well that's the last feature for this week.
I was going to do 2 tabs of Picasa this week. I did not have time. I will make time over the next week to get both the last 2 tabs done for the 21st so that on the 28th I can do the rest of the features from the toolbar at the top and from the other features at the bottom that I have not covered.
Now it is your turn...
2/7, 2/14, 2/21. 2/28 a series on Playing with Photos
What program do you use to fiddle with your photos?
Let us know and show some of the things the program does.

If you don't want to join in on this one... mine will be a series for all of February...
you can choose your own topics and post what you would like.

I have been wanting to do this on my blog and decided to do it for Think Back Thursday since I use a lot of photos for this meme. It will take some planning ahead to get this one ready so I am giving you all of Jan to work on it.
I have been working on this and it is going to be GOOD! I can't wait to share with you.
I look forward to seeing what you show us... whether you do Playing with Photos or your own thing.
Here are the Rules for participating:
It can be about you, about your kids, about your parents, whomever. You can include video, I will not exclude video alone posts, but I prefer them along with photos, as this is a photo meme. I am doing a weekly theme now. That should help narrow it down from the myriad of photos we all have. For ideas check out the other posts in my label Think Back Thursday.

Link up below.

Please use a permalink that sends readers directly to the correct post. If you are not sure what that is click the word permalink for an explanation.
Mention my blog and offer a link back. This is a requirement to take part and a kind gesture to me your hostess as well as your readers--they will know where to join in the fun, too.

You can put the Think Back Thursday button on your site and in your post. You will find it on my right sidebar. Please use it to link to my site, to spread the word about my meme. Using the button will help others know how to find me and how to join. Tell others to click on the button in your post to find us here.

Leave me a comment. First so that you can let me know what you think of my pictures and secondly so that I will know a new post has been linked up and I can come visit your blog and comment on your photos.
Join me!
all content on my blog is ©