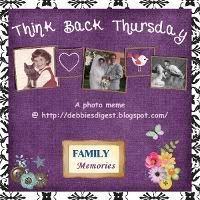 The purpose of

Think Back Thursday

is to link up a photo post about something from the past. You can reach back all the way to your childhood and bravely post pictures of you in your wild clothes and hair styles or post something from last year and tell us about it. I'm not picky. Hey, even

yesterday

was the past... LOL
I hope you will join us.

It is time for tab 4 of the features of Picasa. I was going to do tab 4 and 5 but the post would have been tooooo long. It is long enough already. So, I will be adding another week.

Now we are getting to the really fun features.
The features on tab 4 are ones you would only use one of. None of these could be combined, it would make for a terrible looking picture. But they are fun all on their own.


Here is the original photo
From Longwood Gardens 05-06-2011
These are from our very first visit to Longwood Gardens
Infrared Film
You can see there is only one option for changing things here. You can fade the infared feature. The more you fade it the more like the original it looks. You can see I left it fully Infared.
This affect simulates black and white infrared film.
"What gives infrared film its main characteristic, and what makes it different from conventional film, is how it records reflected infrared energy.
The effect is most obvious in leaves and green foliage, especially in the spring and early summer months. Rapid growth occurs in plants in these months and photosynthesis rates are high; the higher the rate of photosynthesis the greater the amount of infrared radiation. These high levels of infrared radiation cause the leaves to record as white to light gray in infrared images." from http://www.vividlight.com/articles/2915.htm
You can see that affect in this feature. It really made the leaves look white.
This is what it would look like in the Black and White feature. Notice the difference in the leaves.
Lomo-ish
Simulates the affects of using a Lomo toy camera.
"The lens is made out of plastic and not glass, so the lens is largely responsible for the quality of the images: vignettes, saturated colors, off hues, and the like." from http://www.1stwebdesigner.com/inspiration/what-is-lomography/
FUN!
Holga-ish
Another kind of toy camera with a plastic lens
HDR-ish
HDR stands for High Dynamic Range. Create a photo with amazing detail in the shadows, midtones, and highlights all at the same time. I exagerated the effects so you could see what was possible.
Cinemascope
Simple one. This could be combined with any of the other features on this tab, and most of the features on the other tabs as well. I did not combine it with any of them so you would not be distracted by multible features.This features says you can give your photo that "Classic Movie Magic". There is no slide choices here... it is either Letterbox or not. If you unclick the Letterbox check mark your photo goes back to looking like the original.
but you will have to wait 'til next week.
Orton-ish
Mimic Michael Orgon's effects
Three slide buttons to play with here.
Fade, as usual, takes you from full effect back to the original. Brightness is self explanatory. Bloom kinda changes the focus. Another one that is hard to explain and fun to play with.
Here is
Michael Orgon's discription
of this technique from his own website.
1960's
Rounded corners and a warm, aged glow. Just like some of my photos from growing up. Also my college photos in the 80's. I guess I was behind the times with my camera!!! LOL
You can change the background color and change the amount of warm glow. You can also round the corners or leave them square... but a photo is not a 1960's photo without the rounded corners in my opinion.
Invert Colors
This makes your photo look like a negative... sorta.
No screenshot of this feature because there is nothing to show. You either invert the colors or you don't. There are no slide buttons here to change anything.
I love this!!! Looks so interesting.
Heat Map
Simulates Heat Vision
Hue changes the colors. Fade does what it always does, it changes it from very much like a heat map back to the original. The settings above gave me this picture and this was the default it came up with when I pushed the feature button on tab 4.
Cross Process
It says, "Mimics Cross-processing."
But what is Cross-processing.
I looked it up on Wikepedia. It said it was,
"...the deliberate processing of photographic film in a chemical solution intended for a different type of film. ... Color cross processed photographs are often characterized by unnatural colors and high contrast.
This process does not seem to do much, at least not to this photo. The colors are not very unnatural even though I left it at the highest feature setting and did not slide the fade bar at all.
Post
erize
Reduce the amount of colors in a photo.
You also have a detail slider and fade.
Postureize with less colors
A few more colors
Detail affects how many details of the photo are shown. Hard to explain. With the detail slider moved to the left the photo looks like the one below.
Duo-Tone
Ummm....
Duo means 2, Tone is the same as color. So choose 2 colors and then you can adjust the brightness, contrast and fade.
Different colors give you different looks.
I decided to try and combine some of the features from this tab... it came out really COOL!!
I combined Invert Colors, HDR-ish, and Lomo-ish
Now it is your turn
2/7, 2/14, 2/21. 2/28, 3/7 a series on Playing with Photos
TWO MORE WEEKS
Todays post got really long. I did not want to make it longer by doing tab 4 and 5 so I added the first week of March to this series... I hope you are not tooooo bored! I am having fun!!
What program do you use to fiddle with your photos?
Let us know and show some of the things the program does.

If you don't want to join in on this one... mine will be a series for all of February...
you can choose your own topics and post what you would like.

I have been wanting to do this on my blog and decided to do it for Think Back Thursday since I use a lot of photos for this meme. It will take some planning ahead to get this one ready so I am giving you all of Jan to work on it.
I have been working on this and it is going to be GOOD! I can't wait to share with you.
I look forward to seeing what you show us... whether you do Playing with Photos or your own thing.
Gotta figure out what is NEXT for March???
Suggestions
Here are the Rules for participating:
It can be about you, about your kids, about your parents, whomever. You can include video, I will not exclude video alone posts, but I prefer them along with photos, as this is a photo meme. I am doing a weekly theme now. That should help narrow it down from the myriad of photos we all have. For ideas check out the other posts in my label Think Back Thursday.

Link up below.

Please use a permalink that sends readers directly to the correct post. If you are not sure what that is click the word permalink for an explanation.
Mention my blog and offer a link back. This is a requirement to take part and a kind gesture to me your hostess as well as your readers--they will know where to join in the fun, too.

You can put the Think Back Thursday button on your site and in your post. You will find it on my right sidebar. Please use it to link to my site, to spread the word about my meme. Using the button will help others know how to find me and how to join. Tell others to click on the button in your post to find us here.

Leave me a comment. First so that you can let me know what you think of my pictures and secondly so that I will know a new post has been linked up and I can come visit your blog and comment on your photos.
Join me!
all content on my blog is ©