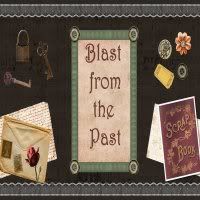 Click the
Blast From The Past Rules
tab above to see the rules for my meme
if you are a first timer or if you forget the rules.
Today I am featuring me.
The hostess of the 30 Day Blog Challenge put up her college graduation picture for the Picture of Me challenge the other day. She is graduating this year.
I graduated in 1983 and I don't think I have shared this photo so I decided this was a good week to do it.

I graduated from The King's College
at the time it was located in Briarcliff Manor, NY
Now the school is located in the Empire State Building in NYC.

Join Me in doing Blast From The Past
post a picture (or pictures) of yourself or your family from years or even weeks gone by

I am switching linky tools because the one that I was using now costs money. I like to support things when I can but with my hubby out of work I decided to go with Linky Tools which has many choices of ways to link... including thumbnails. So we still have a thumbnail linky just from a different company.
all content on my blog is ©