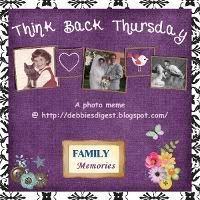 This weeks theme is
Entry/Doorway/Enter
I found some great photos for this theme.
I hope some of my participants found some as well.
at a hotel on vacation with my parents
The first time hubby and I came through a door as husband and wife
July 14, 1984
Christopher
Climbing the doorway
03-22-05
I used to do this in the hallway of our home where we grew up.
Christopher is the only one of my children who inherited this family trait.
He also has the same color eyes as me, and is the youngest of 4 children, like I was.
He could even span the wider space of the entryway from our living room to dining room.
Such a monkey!
I love it!!!
These photos are from 2007.
My sweet dd Jessica
11/22 Thanksgiving
previous years or preparations for this year
Yes, this will be posting on Thanksgiving Day.
You can get your post ready ahead of time and then schedule it to post on Thursday morning.
You can come put your link in anytime on Thursday, that will only take you a second, or you can post your link later. I will leave the linky open.

You can even post your photos later than Thursday if you need to.
The linky stays open all week.
Please leave me a comment so I know you posted, especially if you post late.


11/29 You/Yourself/Self-Portrait
a photo of you, taken by you or by someone else
a recent photo or one from days gone by
Here are the Rules for participating
:
The purpose of

Think Back Thursday

is to link up a photo post about something from the past. You can reach back all the way to your childhood and bravely post pictures of you in your wild clothes and hair styles or post something from last year and tell us about it. I'm not picky. Hey, even

yesterday

was the past... LOL Most of my posts will be from longer ago than yesterday.
It can be about you, about your kids, about your parents, whomever. You can include video, I will not exclude video alone posts, but I prefer them along with photos, as this is a photo meme.

I am doing a weekly theme now. That should help narrow it down from the myriad of photos we all have. If you don't have a picture for the theme of the week you can post your own photo in whatever theme you want. It's ok with me, really. I did the theme to narrow down the choices and make it easier to pick photos and so I could add my meme to the Daily Meme list and I had to have a theme to put my link in there... but I like the themes. If you can't find a picture for a theme post something else. Really. For ideas check out the other posts in my label Think Back Thursday.

Link up below.

Please use a permalink that sends readers directly to the correct post. If you are not sure what that is click the word permalink for an explanation.
Mention my blog and offer a link back. This is a requirement to take part and a kind gesture to me your hostess as well as your readers--they will know where to join in the fun, too.

You can put the Think Back Thursday button on your site and in your post. You will find it on my right sidebar. Please use it to link to my site, to spread the word about my meme. Using the button will help others know how to find me and how to join. Tell others to click on the button in your post to find us here.

Leave me a comment. First so that you can let me know what you think of my pictures and secondly so that I will know a new post has been linked up and I can come visit your blog and comment on your photos.
Join me
!
all content on my blog is ©