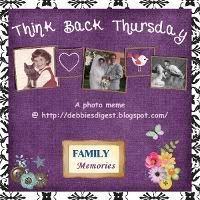 The theme today is, of course, Thanksgiving.
I am thankful for a lot of things but I will not list them all today.
I will just list a few.
Today I am thankful for:
Family
Friends
Salvation
God's work in my life
Traditions
This is my daughter Jessica (left) and my niece Jennifer.
It is 1995 and Jessica is 7 yrs. old.
This photo was taken at the home in which I grew up.
Oh, how I miss that house.
My mom lives with my sister now.
The girls are getting the bread ready for the stuffing.
This is my son Nathan.
He was about 1 1/2 yrs old and boy did he need a haircut.
But he is adorable!
Nan (what most of the grandkids call my mother) gave him one of the beaters to keep him occupied and happy until dinner was ready. Eating off the beaters was a tradition of my mom's she loved to let people eat off the beaters and never scraped all the potatoes off. We had to test the potatoes and see if they were worthy of being put on the table. I loved doing this and so did the grandkids.
Those are the only 2 photos I have of that year and the only 2 I could find of Thanksgiving at my mom's house. I don't know if any other family members have any.. but that was all I could find.
It seems I don't have as many Thanksgiving photos as I thought.
The next photos are 10 years later.
Thanksgiving 2005
Nice looking bird.
Back to front, left to right: Jessica, now 17, Me, Rachel age 20; Nathan age 11, my mom (Nan), and Christopher (our youngest) almost 9 yrs. old.
Notice our Thankful tree. Each hand print is something we were thankful for. Each person had a color of paper to trace and cut their own hand prints out of for the leaves of the tree. Each day in Nov. up til Thanksgiving we each put a hand on the tree. Thanksgiving day we read the things we were thankful for.
Time to cut the bird.
Someone is excited to get eating!!
Silly kids.
It is over and done with, the bird picked clean and the food put away all to quickly for all that work.
I hope you are having a wonderful Thanksgiving this year and I hope you take lots of pictures so you can join my meme next year and post your family photos.
Now it is your turn. I hope you have you post ready.
If you don't the linky will stay open all week so work on you post and get it linked up.
You can even do this year's photos if you want to or need to.
God Bless
"See You" next week for more TBT.
11/29 You/Yourself/Self-Portrait
a photo of you, taken by you or by someone else
a recent photo or one from days gone by
I still have to work on Dec. Themes
I am thinking of
Laughter
Togetherness
Christmas Traditions
Christmas Long Ago (how long ago is up to you :-)
What do you think of those themes?
Do you have a better suggestion?
Should I leave them in that order?
Here are the Rules for participating
:
The purpose of

Think Back Thursday

is to link up a photo post about something from the past. You can reach back all the way to your childhood and bravely post pictures of you in your wild clothes and hair styles or post something from last year and tell us about it. I'm not picky. Hey, even

yesterday

was the past... LOL My posts will mostly be about events that happened prior to blogging, as a way to share those things with the world.
It can be about you, about your kids, about your parents, whomever. You can include video, I will not exclude video alone posts, but I prefer them along with photos, as this is a photo meme. I am doing a weekly theme now. That should help narrow it down from the myriad of photos we all have. For ideas check out the other posts in my label Think Back Thursday.

Link up below.

Please use a permalink that sends readers directly to the correct post. If you are not sure what that is click the word permalink for an explanation.
Mention my blog and offer a link back. This is a requirement to take part and a kind gesture to me your hostess as well as your readers--they will know where to join in the fun, too.

You can put the Think Back Thursday button on your site and in your post. You will find it on my right sidebar. Please use it to link to my site, to spread the word about my meme. Using the button will help others know how to find me and how to join. Tell others to click on the button in your post to find us here.

Leave me a comment. First so that you can let me know what you think of my pictures and secondly so that I will know a new post has been linked up and I can come visit your blog and comment on your photos.
Join me!
all content on my blog is ©