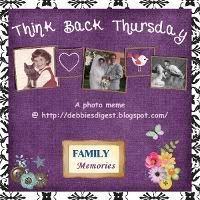 Today11/29
You/Yourself/Self-Portrait
a photo of you, taken by you or by someone else
a recent photo or one from days gone by
I decided to day to feature just one photo of me.
This photo was taken on the boardwalk, probably at Ocean City, NJ, our usual beach choice. I look to be about 4 or 5, I think. LOL I had no idea this photo existed. It is one of those sit in a booth and get a strip of photos deals. See the ripped edge at the top?? This is the only one of the photos from that strip in existence... that I know of. I miss my daddy so much some days and so this photo is very precious to me. In case you don't know my dad died in 1976 when I was only 14. So great to see us laughing and having so much fun together. So precious that I digital scrapbooked it and then only wanted to feature it and no other photos of me.
and miss you so. Having the Lord and You waiting for me in Heaven makes me "home" sick. ... Praying the Lord will come back soon.
This photo was recently given to me by my mother. It was in a little, old, blue carry around in your purse type of photo book.
I used my My Memories software and
the
Swim On- Mini Kit
Togetherness
Holiday Decorations
Christmas Traditions
Christmas Long Ago
(how long ago is up to you :-)
Here are the Rules for participating
:
The purpose of

Think Back Thursday

is to link up a photo post about something from the past. You can reach back all the way to your childhood and bravely post pictures of you in your wild clothes and hair styles or post something from last year and tell us about it. I'm not picky. Hey, even

yesterday

was the past... LOL My posts will mostly be about events that happened prior to blogging, as a way to share those things with the world.
It can be about you, about your kids, about your parents, whomever. You can include video, I will not exclude video alone posts, but I prefer them along with photos, as this is a photo meme. I am doing a weekly theme now. That should help narrow it down from the myriad of photos we all have. For ideas check out the other posts in my label Think Back Thursday.

Link up below.

Please use a permalink that sends readers directly to the correct post. If you are not sure what that is click the word permalink for an explanation.
Mention my blog and offer a link back. This is a requirement to take part and a kind gesture to me your hostess as well as your readers--they will know where to join in the fun, too.

You can put the Think Back Thursday button on your site and in your post. You will find it on my right sidebar. Please use it to link to my site, to spread the word about my meme. Using the button will help others know how to find me and how to join. Tell others to click on the button in your post to find us here.

Leave me a comment. First so that you can let me know what you think of my pictures and secondly so that I will know a new post has been linked up and I can come visit your blog and comment on your photos.
Join me!
all content on my blog is ©