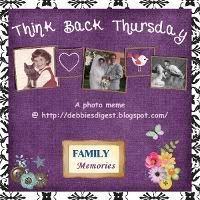 Sorry I am late getting this up. I will have to strive to do better. I watched a couple movies with the family last night instead of prepping this post.

Today's theme is...
ideas:
board games
computer/video game
playing house
anything else you "play" with your kids
Now these are not just pictures of your kids playing...
but YOU playing WITH them.
Take time to play with your kids this summer
make a memory
document it
and post photos of this years activity or previous times you have played with your kids
These photos are from Mother's Day this year, 2012. I guess you could say the kids were playing with me and not me playing with them since on special days the one who is being honored, be it birthday or other holiday, gets to choose what to do and the whole family does it together. My hubby even joined in, though this is not his thing, because it was what I wanted to do. But, I am counting it, since we are playing together as a family.
There are a few still photos but the funniest parts are the videos.
Most of the videos are only a few seconds, all of them are under 2 minutes. I hope you enjoy these... they still make me laugh!!!!
Here is a game clip of Wii Active Life Explorer we were playing in case you want to see what the games are actually like. The one where you have to stop and then walk/run then stop is one we played above, also the sliding down the ice one is the videos above where we were on our hands and knees or sitting on the floor.
These are the photos of the gifts I got from my daughter Rachel. I thought I would include them as it was part of our day together. She also made me the crocheted flower pin I was wearing.
This is a jar of encouraging notes my daughter wrote for me. Anytime I need a pick-me-up I can reach in and read one.
After I opened my gifts we played the new game I had purchased, but we had not played yet. I love board games and love trying new things. The game is
Dicecapades.
It has over 100 dice and has Trivia, Drawing, Word and Number Play and Physical Challenges all in one game.
I was not able to look at all the trivia questions before we purchased the game so when we got home we realized the kids and I would not know one of the categories of questions. The category is popular music. We just really don't listen to worldly music at all. My husband would know some of the older stuff but not the new music. So to solve that problem instead of reading those questions we substituted questions from one of our
Profeessor Noggin's Card Games
. I believe this time we used the Space game as we were studying space at the time.
What was especially fun is that to choose your question for the Professor Noggin game you have to roll a die... it fits right in with the Dicecapades game and we have a lot of these Professor Noggin games so we can choose from a variety of subjects and play a different one each time we play Dicecapades.
Here we are setting up the game.
It was a great day and fun was had by ALL! as you could see from the videos.
August Themes
I have done some planning ahead for August and decided to share with you my current plans for Think Back Thursday so you can plan ahead while you are looking for this week's pictures you can be on the lookout for photos for the themes for the weeks ahead.
Aug. 9 - Fire
Aug. 16 - Wind/Air
Aug. 23 - Rock
Aug. 30 - Night
The first 3 August posts are part of a series... we already did Water and Clouds. I decided to do some other basic "elements" of life on earth. I already have been thinking of some pictures for these posts, now I just have to find them in my many, many files. Aug. 30 can by any night shot, should be outside, inside at night is just an inside shot, not a night shot.
Here are the Rules for participating
:
The purpose of

Think Back Thursday

is to link up a photo post about something from the past. You can reach back all the way to your childhood and bravely post pictures of you in your wild clothes and hair styles or post something from last year and tell us about it. I'm not picky. Hey, even

yesterday

was the past... LOL My posts will mostly be about events that happened prior to blogging, as a way to share those things with the world.
It can be about you, about your kids, about your parents, whomever. You can include video, I will not exclude video alone posts, but I prefer them along with photos, as this is a photo meme. I am doing a weekly theme now. That should help narrow it down from the myriad of photos we all have. For ideas check out the other posts in my label Think Back Thursday.

Link up below.

Please use a permalink that sends readers directly to the correct post. If you are not sure what that is click the word permalink for an explanation.
Mention my blog and offer a link back. This is a requirement to take part and a kind gesture to me your hostess as well as your readers--they will know where to join in the fun, too.

You can put the Think Back Thursday button on your site and in your post. You will find it on my right sidebar. Please use it to link to my site, to spread the word about my meme. Using the button will help others know how to find me and how to join. Tell others to click on the button in your post to find us here.

Leave me a comment. First so that you can let me know what you think of my pictures and secondly so that I will know a new post has been linked up and I can come visit your blog and comment on your photos.
Join me!
all content on my blog is ©
Note:
links to Dicecapades and Professor Noggin games above are affiliate links to Amazon.