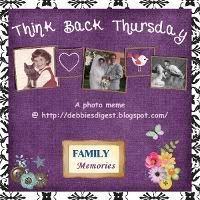 Wednesday was the 4th and my family wanted me to spend time with them. Thursday was my son's birthday and we spent all day together. I prepped my Think Back Thursday post and had it scheduled, ready to post. I went to visit the only blogger that linked up this week and she mentioned that I had not chosen a theme for next week. Oops. I usually do that ahead of time and post it so the participants have a week to plan and search for photos. I just plain forgot.
So...
without further adieu...
the theme for next week will be
It could be a big bridge or a small one.
A covered bridge or uncovered.
You can have people on the bridge, or cars, or maybe a horse drawn cart/carriage, or even nothing.
Does that sound like fun.
I have a few bridge pictures I would like to share, do you??
all content on my blog is ©