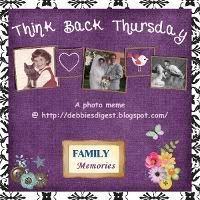 Ready to post your blog post for TBT
Our theme this week is
Animals
could be visiting a zoo,
a farm,
or meeting an animal in the wild
wherever your family has come into contact with an animal
oh, this includes birds, fish, mammals, reptiles... everything
I am featuring
this guy...
A giant snapping turtle
we met him on the side of a road
on the way home
from a walk at a nearby park
He was trying to cross the road
and we were trying not to hit him .
My son tried to pick him up...
watch the video to see what happens

The snapping turtle would have none of the help we,
and another woman who stopped,
tried to offer.


We had to leave him and pray that God would watch over him.
God watches over the sparrows and knows when one falls,
we hoped God would watch over the snapping turtle and guide him safely across the street.
This was an exciting and unexpected encounter.
I have a lot of other photos of my kids interacting with animals.
I am sure I will do this theme again, some day.

I forgot to let you know sooner,
videos you take yourself are ok to add also.
I would prefer it to be in edition to photos,
but if video is all you have on a subject,
as long as it is your own video,
that is ok.
Next week's theme will be
one you played with family, friends, church, etc.
Since I already know the themes for the next 2 weeks I will give you a heads up... you can work ahead and schedule the post if you want.
June 21st the theme will be
you can do your father, father-in-law, or your kids father (your husband)
June 28th the theme will be
if you don't have a graduation photo of your graduation, or of a child of yours or another friend/relative, then you can do another award type ceremony.
Here are the Rules for participating
:
The purpose of

Think Back Thursday

is to link up a photo post about something from the past. You can reach back all the way to your childhood and bravely post pictures of you in your wild clothes and hair styles or post something from last year and tell us about it. I'm not picky. Hey, even

yesterday

was the past... LOL My posts will mostly be about events that happened prior to blogging, as a way to share those things with the world.
It can be about you, about your kids, about your parents, about whatever. For ideas check out the other posts in my label Think Back Thursday.

Link up below.

Please use a permalink that sends readers directly to the correct post. If you are not sure what that is click the word permalink for an explanation.
Mention my blog and offer a link back. This is a requirement to take part and a kind gesture to me your hostess as well as your readers--they will know where to join in the fun, too.

You can put the Think Back Thursday button on your site and in your post. You will find it on my right sidebar. Please use it to link to my site, to spread the word about my meme. Using the button will help others know how to find me and how to join. Tell others to click on the button in your post to find us here.

Leave me a comment. First so that you can let me know what you think of my pictures and secondly so that I will know a new post has been linked up and I can come visit your blog and comment on your photos.
Join me!
all content on my blog is ©