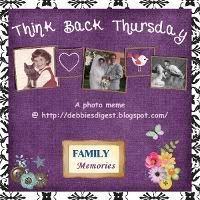 Join me tomorrow!
June 28th the theme will be
Graduation
I will be sharing a very recent graduation this time... not old photos...
since my 3rd oldest, my son Nathan, graduated on June 23rd from our homeschool.
You can do your graduation or the graduation of any relative or friend.
Or, if you don't have any graduation photos you could do another ceremony where someone get's recognized for something, like Scouts, or Karate, or 4H or Awana... anything like that.
July 5th
the theme will be
I have quite a few cloud pictures,
will I share one or a few,
I can't decide.
If you don't have any photos of jsut clouds, or with clouds in the background, in your photo archive then take one... you have just over a week to get a great photo for this theme.
I hope to see you tomorrow, posting and linking up with my meme.
Make sure you use my button, it's in my sidebar, or at the least, a link back to my site.
all content on my blog is ©