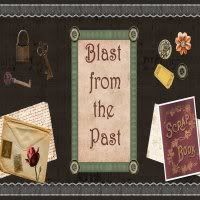 Blast From The Past occurs on
Tuesdays
This week I am featuring Rachel

This photo was taken in the Spring of 1992

Rachel was 6 years old.
What else to say...

I could say this is one of my favorite pictures of Rachel...

O.K. I will say it

This is One of my many favorite photos of Rachel.

But there are so many favorites, how many favorites can you have?

I have a lot of favorites!
Just like I have 4 favorite children!

I guess for today I say...

"Ain't She Sweet!"

A picture is worth a thousand words.

I hope you enjoyed this weeks Blast
Now it is your turn!!
Post a picture from your past... yesterday... days gone by...
Pictures of you, your family, your kids, your spouse...

Make sure you take my Blast From The Past button to put in your post. Tell your readers to click on the button to come to my blog or leave them a link at the bottom so they can read my post and participate if they want to.

Don't forget to come back and sign Mr. Linky
so we can all go read your post!!!

Debbie