Note:
You can click on most of the pictures to see them better. You may especially want to take advantage of it for the scans of my school logs further down the page.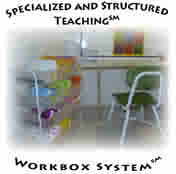 Have you noticed, read about, tried the newest rage in homeschool organizing? Before I received this to review this year I had seen a number of homeschool blogs using this system and was interested. I decided that since it was fairly early on in the year that we would be reviewing this, that I would wait until I got the original e-book and could read it before trying the system out.
I like to support the small homeschoolers doing a good job and Sue has set up a system that has breathed new life into our homeschool. Since my daughters have graduated things in our home have deteriorated homeschool wise. I became more and more irresponsible, especially in the area of keeping up with the school log, writing down what we did each day for school. I am one of the many that have tried
The Workbox System
and found that it not only helped us get a lot more done each day but it helps me be more responsible to be prepared for each day of school and grade, correct, check their work to make sure it is all completed and then to write it in my log.
The system basically works like this. You put the curriculum/books you are using for homeschool into plastic tubs. As you can see from the picture of our workboxes and shelves I could not afford at this time to get the system set up like I would want. I would really prefer see-through drawers that will hold our books without bending them. but, I had to use what I had and so we have a mishmash of boxes from popcorn and Ziploc bags. I then put paper over the fronts so the boys could see their number/picture tags and the work with mom tags better. To make sure the paper did not rip from taking the tags off and on I put a strip of packing tape over the paper. I also used the packing tape to "laminate" the workbox numbers, pictures and other things to put in and on the boxes.
These are the drawers I want:
Sterilite 3 Drawer Wide Organizer
You can get them at Walmart
and maybe other places.
I also use note cards that I covered with packing tape so I can use a write on wipe off marker to leave the boys notes instead of using sticky notes. They are then reusable. I used note cards from ABCTeach (another TOS review item was a one month subscription), there are a few free ones to try such as:
Sorry to say the best ones are in the members only section. I like the ones I got with lines for writing on them and 4 on a page instead of only 2. Maybe you could find something like this on the internet for free. If I find any I will post about them in a new post later. I might ask my dh for a year's membership. The month was over way to fast to see all the things on there. I did download a bunch, but I missed a whole bunch more.
One thing to note: this system works with kids of all ages. My boys are 12 and 15 and it works great with them. If you go to the link at the bottom of the page and read some of the other TOS Crew reviews on this product you will see how they use it for their elementary and even pre-school children, but finish reading my review first.
Also, this can work with any curriculum. We use quite a variety of things, textbooks for math, worksheets, workbooks, reading materials, games, and it works great with it all. It will really keep you organized and it will help you run around less each day looking for things if you have the workboxes all planned out ahead of time.
You can see, on the top shelf, a box for Nathan. This box is for papers that are completed, checked and need to be filed in his notebooks. Christopher has one too but he keeps his over by his school spot. They file their papers once a week on Friday's after school.
The use of the boxes makes it so that you cannot add things to their day and drag school time on and on and it makes it so the children can "see" what has to be done for the day. One of the other features I have found so useful and wonderful is the addition of "fun boxes". I can now use all those resources that I keep forgetting to use! I have a place for them in their workboxes and we are using the resources we already have on the shelves that have been sitting there for years.
When the boys are ready to start school they check in by moving their picture card with their name to the Homeschool '
Begin
' envelope and when they are finished everything, they check out by moving it to the '
Finished
' envelope. The boys like this and it helps them get mentally prepared for "school time." Time to settle down and learn and stop fooling around.
I used the "Clocking In Template", free when you purchase the e-book, from Sue's website... see the
Extra Resources
below. I printed the template on card stock and then glued the pictures of the houses to a pocket meant for lapbooks from
Homeschool Share
. You will need two pockets so I used this link:
Library Pockets (2 on one page)
We do not have a white board yet. I had one years ago but it got lost in the move??? Thrown out?? I am not quite sure. I have some Staples reward $$ coming and I am going to spend that on a new white board for us. Until then we have a print out on the wall inside a plastic sleeve... it works!! This is for listing those things we do together before they start on their workboxes.
So they have their numbers on their boxes as they start their day and as they complete each box they remove the number and replace it with a picture. They put the number on the spaces in order on their wall chart which is "laminated." The boys each chose their own pictures. Nathan's is a ship he built with Lego Digital Designer online and Christopher's is a picture of Lego Indiana Jones.
The boys take one box at a time off the shelf and take it to their spot at the table. They work on the stuff in that box and complete it before moving on to the next box.
When they are done with each box they put it on the floor next to my chair. I then grade, correct or at least check and make sure the work is completed correctly. I do this while the boys are doing their other boxes. If something is incomplete I hand it back to them. I take this time to also write the work done onto our school log. Then I load the box for the next day...putting new fun things in the boxes...writing notes on the "laminated" cards if needed and then I slide them over toward the bookcase. When the boys are done all I/we/they have to do is put the numbers back on their boxes and the pictures back on the chart on the wall. We are ready for the next day of school.
This is a typical day of work recorded in my school log before we started
The Workbox System.
Pretty Sad, yes! I should hide my head under a bag!!
I had become complacent after 18 years of homeschooling. Note: Christopher was doing both ALEKS Math online and Quarter Mile math. Both were TOS Review items. If you want to read my reviews on them you will find them here:
This was all the stuff we accomplished yesterday. Oh and this does not include History and Science. I log those on a separate page since we do it together each day... I only write it once for both boys. I never had much trouble keeping track of History and Science, it was the other areas that were lacking.
When they are all done for the day, all their numbers are on their chart on the wall...
and all their boxes have the pictures on them. Then they can check out.
Further information from Sue's website and elsewhere.
You can get more information regarding this system if you
View the Video on Sue Patrick's Workbox System
.
Purchase Sue Patrick's Workbox System User's Guide Ebook
The e-book alone costs $19.
Click here to download a pdf of some sample pages from Sue's e-book on the workbox system.
You get a 14 page document including the Table of Contents and part of chapter 1 and 2.
I highly recommend getting the e-book. You need to read about the system from it's original source as well as support small homeschooling companies that are developing new things to make our jobs as homeschool mom's more effective.
Extra Resources
When you buy the e-book, and register your copy online, you also get a bunch of extra resources you can download from Sue, including but not limited to:
Schedule Strip Template
Workbox Numbers Template
Work with Mom Cards-white skin and brown skin
Clocking In Template
Curriculum Grid Template
Sample Log Grid (filled out) it was very helpful to see it all filled out
Log Grid Template
Typing Program Downloads

Pages for Typing Program
Typing Hands for Keyboard Visual

Running Goals Sample for Young/New Runners
Some of these resources can also be purchased as a kit already printed and laminated for you...
see the packages she sells here
these include the e-book. The prices vary depending on what you want included with the book. They run from $55 - $110.
If you already have the e-book you can
buy the starter kits here
and there are a few other things on this page as well. The extra suff and starter kits run from
$3.50 - $26
She has answered some FAQ's on this page

.
You can get some information from Sue herself in this recent Sue Patrick Interview

.
In the interview you can get some information about why Sue set up the workboxes in the first place and what her thoughts are on a few things concerning how to use workboxes
Out of five stars we give
The Workbox System
:
*** Sue Patrick provided me with the Workbox System pdf and other resources on her website so that I could do my review. Though I received this product for free I have given an honest review of it here in this post.
If you have any questions about the e-book or the extra resources just leave a comment. Since we will be continuing to use this system I will be posting weekly workbox updates with the things I put in my boys boxes.
Also,
read the other post my my crew mates here
and get some other opinions on this great system.
Debbie