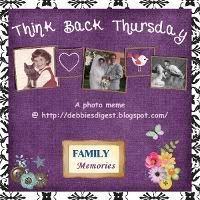 The purpose of

Think Back Thursday

is to link up a photo post about something from the past. You can reach back all the way to your childhood and bravely post pictures of you in your wild clothes and hair styles or post something from last year and tell us about it. I'm not picky. Hey, even

yesterday

was the past... LOL
I hope you will join us.
March 14 - Signs of Spring

Bugs
Some of the earliest signs of spring in our home are little black beetles in the house and tiny little black ants. I don't have any pictures of them cause we squish them as soon as we see them. But I do have a picture of a little red beetle guy that I took at Winterthur...


Greenery
at Winterthur
So one of the more fun, early signs of spring are the signs that the flowers are coming.
I don't even have to see the flowers yet, just the signs of greenery is enough to get me excited.
Love this picture of the new green shoots coming up through the old brown leaves from the fall before.
Even the moss is growing.
But I like the early spring flowers as well.
These are from my own garden. My daffodils, hyacinths, and buds on my hydrangea bush.
The rest of these flowers are from March at Winterthur.
One of the other signs of spring for me is the desire to clean my house.
At our house everyone gets involved... as much as I can get them... sometimes getting the boys to help clean is harder than the actual cleaning. My younger son Christopher is usually more willing than my older son. The girls are always helping.
We got rid of a lot of trash,
and we need to do this again.
March 21 - Field Trip/Vacation
March 28 - Easter
Here are the Rules for participating:
It can be about you, about your kids, about your parents, whomever. You can include video, I will not exclude video alone posts, but I prefer them along with photos, as this is a photo meme. I am doing a weekly theme now. That should help narrow it down from the myriad of photos we all have. For ideas check out the other posts in my label Think Back Thursday.

Link up below.

Please use a permalink that sends readers directly to the correct post. If you are not sure what that is click the word permalink for an explanation.
Mention my blog and offer a link back. This is a requirement to take part and a kind gesture to me your hostess as well as your readers--they will know where to join in the fun, too.

You can put the Think Back Thursday button on your site and in your post. You will find it on my right sidebar. Please use it to link to my site, to spread the word about my meme. Using the button will help others know how to find me and how to join. Tell others to click on the button in your post to find us here.

Leave me a comment. First so that you can let me know what you think of my pictures and secondly so that I will know a new post has been linked up and I can come visit your blog and comment on your photos.
Join me!
all content on my blog is ©